PickMe Consultant Research Engineer Tharindu Kumarage recently received a scholarship to pursue his PhD at the Arizona State University, US (ASU).

A talented product of Royal College Colombo, Kumarage was a part of the CSC 13th batch at the Computer Science Department of the University of Moratuwa, graduating in 2017 with a First Class, and joined PickMe in early 2018. He has since been deeply engaged with Collaborative Filtering in Mobility-on-Demand systems and is now pursuing his doctoral studies at ASU.

Kumarage played a major role in ensuring that users looking to satisfy their mobility-related requirements received a seamless user-friendly experience by maintaining and enhancing an integral part of the platform's infrastructure.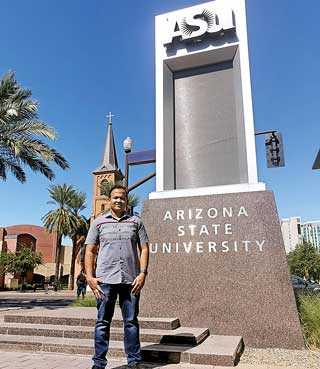 Tharindu Kumarage
"We at PickMe strive to seek and expose budding talent in the tech space of our island nation. Tharindu is an exceptionally talented individual in the research sphere, with much visible enthusiasm to prove his professionalism as well as succeed academically. Empowering youth to achieve their personal and professional goals is a key driver here at PickMe, and the work that our company requires has much scope for more achievers like Tharindu. I, along with the PickMe family, wishes all the best to Tharindu in all his endeavours," said PickMe CEO Jiffry Zulfer. Remarking on the rare opportunity he received, Kumarage reiterated his passion for spearheading his academic and professional success through the field of research and endorsed PickMe for facilitating his journey.

"I had a real passion for research and academia. PickMe provided me the opportunity to work on Collaborative Filtering in Mobility-on-Demand systems. Collaborative Filtering makes the system more user-friendly by providing recommendations. For example, by matching the perfect promotions with perfect user-base or user-clusters which sit broadly under the domain of 'Recommender Systems'," he said. "With my exposure into Recommender Systems I was looking in to the new domain of Social Media Mining. Recommender Systems in Social Media Mining seek to get user interactions with different Social Media platforms and map their preferences with their usage and interactions, then provide recommendations based on those findings.

I got that exposure with the work I did with PickMe. To get a scholarship for a PhD in USA – especially in the area of 'Machine-Learning' which I zeroed-in – is quite difficult. I must say that the work I was involved at PickMe really helped me," he added.

Elaborating that graduates who wish to get into research based work find that opportunities in that arena are scarce, Kumarage was highly appreciative of the opportunity he received at PickMe, as he was able to achieve his MSc. while working for PickMe as a research engineer.

"For students who are seeking a suitable employer in the research arena, PickMe is a great place to work," he added.

PickMe is known as one of the popular technology driven 100% Sri Lankan transportation network companies whose platforms can be accessed via its websites and mobile apps. As a tech-startup that started small and built an impactful business, PickMe remains one of the most innovative companies in Sri Lanka. The platform makes use of locally gathered data and insights (Data Science and Artificial Intelligence), to solve transport mobility setbacks faced by its customers and driver partners.