Sri Lanka's non-bank finance sector market leader People's Leasing & Finance PLC's Human Resources Group Head Uresh Jayasekara was conferred with 'HR Leadership Award' at the eighth edition of 'The Asia's Best Employer Brand 2017 Awards' ceremony held at Le Meridian Sentosa hotel in Singapore.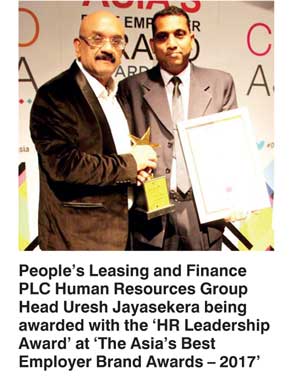 HR Leadership Award being the most prestigious admiration in the Asian HR sphere is awarded by the World HRD Congress annually to HR professionals in Asia who have performed exceptionally well.

People's Leasing & Finance PLC in this occasion received 'The Asia's Best Employer Brand Award' for the second time adding significance to the recognition, which conferred on PLC for its best strategic HR implementation and HR professionalism in accomplishing organisational business objectives whilst maintaining a professional working environment. This is his second international achievement for his professionalism.

In 2017 he was conferred with another high-status Global HR award. Jayasekara was named as one of 'The 100 most influential global HR professionals' by the World HRD Congress at the Global HR awards ceremony and Silver Jubilee held in Mumbai, India in the year.

Uresh Jayasekara has contributed hugely to the local HR sphere over 18 years. He has provided his professional services to the Apparel, Hospitality, Insurance and Banking and Finance sectors and gained immense experience and exposure in the process.

He is an academically and professionally qualified individual. Continuous learning has been his motto in life.

Being an Alumni of Kelaniya University he has obtained an Honours Degree in Biology from the University. He has obtained a Management Diploma from the Open University of Sri Lanka. Subsequently he became a Post Graduate Diploma holder for Business Development of Colombo University and obtained his MBA from the same university by specialising in human resources management.

Jayasekara joined PLC in 2007 and spearheaded the PLC group's HR initiatives to drive the company from strength to strength. He lead PLC to win the SLITAD People's Development Gold and Silver awards in 2014 and 2015.

Also with his leadership PLC was able to secure National HR Excellence – 2016 Silver award and Asia Best Employer Brand Award – 2016 at the annual award ceremony held in Singapore.

In the same year, Sri Lankan Best Employer Brand Award was bestowed with PLC showcasing Uresh Jayasekara's Human Resources Management prowess.