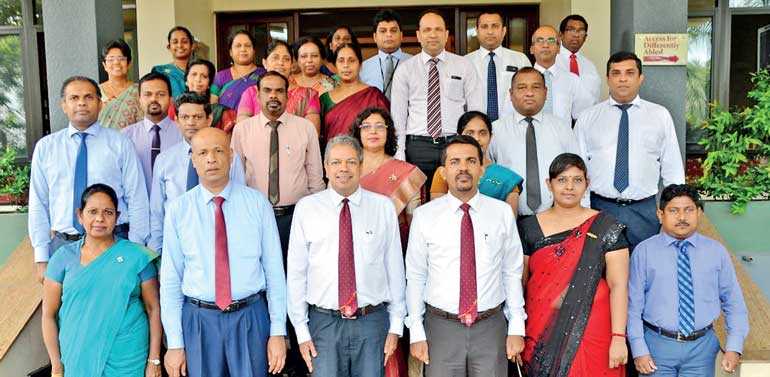 PIM Director Prof. Ajantha S. Dharmasiri, PIM Faculty Member/EDP Coordinator Dr. Samantha Rathnayake, senior officials and participants of the BOC, at the program initiation
---
The Postgraduate Institute of Management, the nation's management mentor, further strengthened its continued relationship with the Bank of Ceylon, the bankers to the nation, by initiating an advanced course in strategic management through Glo-Bus simulation for the bank's chief managers. The objective of the course was to enable the bank's senior managers to get hands-on experience on a structured approach to run a sustainable business venture.
The five-month program was designed to help participants gain a competitive advantage by enhancing their strategic thinking ability. The rigorous course structure includes regular lectures and classroom discussions on strategy concepts, multiple case-studies on strategic applications and Global Business Simulation (Glo-Bus) Strategy game, a world-renowned business simulation program. This is the only program delivered in the whole of South East Asia. In a similar program last year, a team of BOC's senior managers set a new global standard in the world championship round.

PIM Director Prof. Ajantha S. Dharmasiri, PIM Senior Consultant and specialist in Glo-Bus Simulation Dr. A.K.L. Jayawardana, PIM Management Consultant and PIM program coordinator Dr. Samantha Rathnayake, Deputy General Manager (Human Resources) K.E.D. Sumanasiri, and Assistant General Manager (Superannuation Schemes) P.N. Gomes, were present at the initiation of the program.