Celebrating 20 years of a successful and experience-rich career in Information Technology both here and overseas, Chinthi Weerasinghe, CEO of Mitra Innovation Digital business was recognised as the gold winner of this year's Women in Management award for Information Technology. Chinthi joined Mitra at the start of 2019 after a 20-year career at Virtusa where she was the Vice President and Global Head of Quality Assurance managing over 4,000 employees across the globe.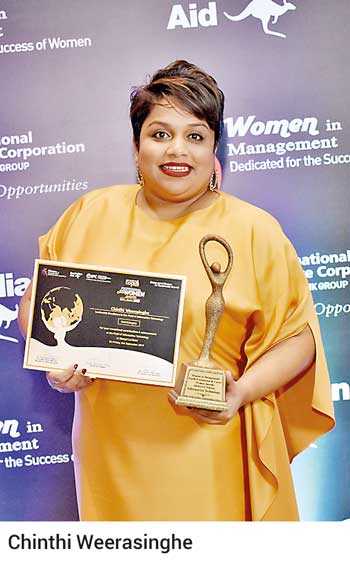 Launched in March 2011 by WIM, 'The Professional & Career Women Awards' celebrates the achievements of remarkable women who inspire those around them – either through the media, through their astounding achievements in their careers, businesses and everyday lives. The annual event is an uplifting and emotional award ceremony where women are celebrated equally in one room

"I am delighted to receive this award as it's a recognition of not just of my own career, but of many women leaders who have broken the glass ceiling in a male dominated industry such as Information Technology," says Weerasinghe. She attributed her success to not just hard work, but the smart choices she has made throughout her life, and advises other women not to edit their dreams and aspirations irrespective of how hard the journey gets.

Chinthi wishes to use the platform she has through Diversity Collective Lanka where she is the Founding President and Mitra to improve gender diversity in the Tech Industry specially focusing on improving IT literacy outside of Colombo. She is proud of the fact that Mitra holds a female percentage higher than industry average, and says she will continue to spearhead the diversity and inclusion efforts with passion.

"Winning the Women in Managements award for Information Technology was a testament to the great work of Chinthi Weerasinghe at Mitra, as we strive to increase the number of women working at our tech company globally, and promote them into senior management levels. Chinthi always had the drive to bring diversity and recognises talent among them while accelerating their career growth. We are very proud of her achievements and look forward to even greater contributions to the Women in IT," said Mitra Innovation Founder and Group CEO Ashok Suppiah.

"We are excited to celebrate this award with Chinthi, as it's a great recognition of her contribution to the Industry. We will continue to push the boundaries when it comes to improving the gender balance in our sector especially by increasing levels of IT literacy in rural areas of Sri Lanka," said Mitra Innovation Group Co-founder and Managing Director – APAC Dammika Ganegama.

Mitra Innovation is a fast-growing UK based technology solutions provider with offices across five regions globally. Mitra recently broke open the APAC region building on solid partnerships in Malaysia, Singapore, Cambodia and Vietnam offering region specific solutions to the BFS and Telco clients in these regions.