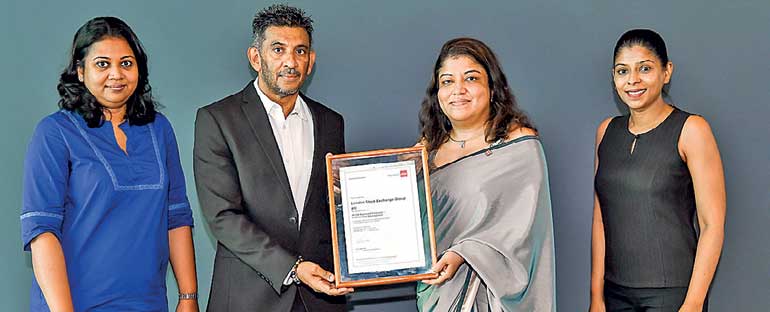 LSEG Sri Lanka Head of Operations Ajith Dandeniya receiving the Approved Employer Status for Professional Development from ACCA Head of South Asia Cluster Nilusha Ranasinghe. Also seen ACCA Sri Lanka Business Development Manager Employers Ruchera Jayawardena Peries and LSEG Senior Manager – Finance Operations Chandima Jayasekera
---
The Association of Chartered Certified Accountants (ACCA) recently awarded LSEG (London Stock Exchange Group) the Approved Employer Status for Professional Development.

The ACCA Approved Employer scheme is a 360-degree solution for recruitment, retention and development of accounting and finance professionals. It is presented to employers who meet high standards of education and training for their staff and commit to their ongoing development.


ACCA Head of South Asia Cluster Nilusha Ranasinghe presented the Approved Employer certificate to LSEG in Sri Lanka Head of Operations Ajith Dandeniya. Business Development Manager Employers for ACCA Sri Lanka, Ruchera Jayawardena Peries and Senior Manager – Finance Operations for LSEG, Chandima Jayasekera were also present at the occasion.


LSEG now joins an elite group of employers to gain access to specialised services offered by ACCA. These include services to support the recruitment, development and retention of finance professionals and access to ACCA's global research programs on managing human capital among other training products and services.

Furthermore, this new status acknowledges and strengthens LSEG's image as a responsible employer who constantly invests in their people and their professional development.


ACCA Head of South Asia Cluster Nilusha Ranasinghe described LSEG as an iconic organisation and that ACCA had monitored their performance in human development over time before considering them for this prestigious recognition. She indicated that ACCA had evaluated them in terms of staff development and progression and has adjudged LSEG to being aptly qualified for the 'Approved Employer' Award.


She further explained, "The approved employer status has been designed to maintain and develop the knowledge and skills needed by finance professionals to succeed in both today's and tomorrow's dynamic and demanding working world. We are recognising LSEG for the investments it makes in human capital development and are delighted to have them being a part of this programme. We look forward to working with them on a number of areas for continuing professional development and to support and help the learning and development of their finance team."


Providing an insight into LSEG and their operations in Sri Lanka, Head of Operations at LSEG in Sri Lanka, Ajith Dandeniya said, "Our Colombo Delivery Center (CDC) is one of Strategic Shared Service Centres (SSC) of LSEG across the globe and at present we have over 1,000 employees. The Business Operations Division is one of the largest teams comprising over 500 employees, whilst the work done out of CDC by FinOps covers a wide variety of Financial Operational areas."


Dandeniya further elaborated, "We have an internship program that gives the opportunity for undergraduates to gain experience in a finance function. Most of these interns get a chance to apply for permanent roles at the end of their internship. Interns therefore can build their career from Finance Operations and move on to Financial Reporting where they get end-to-end exposure in a Finance function at a global organisation."

Expressing enthusiasm in achieving this recognition he added, "At LSEG we are of the view that it is vitally important to engage with organisations such as ACCA to build a continuing funnel of accounting resources that can be used to drive our business. In turn, we encourage employees to continue to build their professional development. We believe these partnerships can build a sustainable model that mutually benefits all stakeholders of the relationship."


With remarkable partnerships of this nature bringing local talent the pathway to gain global connections and opportunities, ACCA will continue to work on a broad range of capacity-building projects to strengthen accountancy skills and continue driving the profession forward both locally and across the world.