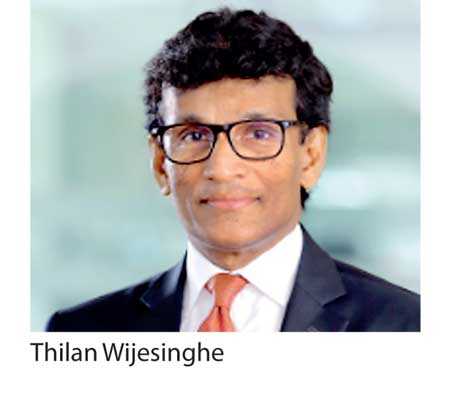 The Chartered Institute of Logistics and Transport (CILT) Sri Lanka organised'L.S. De Silva Memorial Lecture 2018' was heldon 8November at 5:30 p.m. at The Institution of Engineers Sri Lanka, Wijerama Mawatha, Colombo 7.

This year's lecture was on 'Public Private Partnership Opportunities for the Transport and Logistics Industry' and was delivered by Thilan Wijesinghe.

Thilan Wijesinghe has functioned as chairman or managing director of both private and public sector organisations since 1995 and is also an entrepreneur and angel investor. His most recent appointment has been as Chairman and Acting CEO of the newly-created National Agency for Public Private Partnerships, attached to the Ministry of Finance. Wijesinghe has had a successful track record in investment banking and real estate.

In the early 1990s he co-founded Asia Capital PLC, which became Sri Lanka's largest investment bank at the time. In September 1995, Wijesinghe was invited to become the youngest ever Chairman of the Board of Investment (BOI) and soon after sold his shareholding in Asia Capital.

At the BOI, he pioneered PPP transactions when he set up the Bureau or Infrastructure Investments of the BOI in 1996. The BII closed $800m in PPP transactions that included SAGT, South Asia's first port sector BOT, private power generation for the first time totaling around 400 MW of thermal and 75 MW of mini hydro, attracting competition to fixed telephony for the first time (Lanka Bell and Suntel).

Upon leaving the BOI, Wijesinghe ran Sri Lanka's two largest listed property companies, Asian Hotels Properties PLC, where he represented the interests of shareholders who sold the company to John Keells and later Overseas Realty PLC.

During the last decade, Wijesinghe co-founded and became shareholder of several pioneering businesses. These include Ceylon Tea Trails, the world's only tea plantation resort connected by walking trails, which is majority owned by Dilmah; Sapphirus Lanka, the highest value added exporter of calibrated sapphire in Sri Lanka, Wow.lk, Sri Lanka's largest on-line mall and eTreatMD, a Sri Lankan-founded digital health company in Canada.

He also is a Co-Founder and Board member for life of SLIIT, Sri Lanka's largest IT and engineering university. Wijesinghe has degrees in Industrial Engineering, Economics and Business from Cornell University, USA.

The Chartered Institute of Logistics and Transport (CILT) is a leading global professional body associated with the logistics and transport industry. The Institute holds unparalleled international recognition and works towards achieving its objectives of promoting and encouraging the art and science of logistics and transport through its membership and its educational qualifications.

With a global membership of over 33,000 from 32 countries across the globe, CILT provides a professional identity to those in the ever expanding logistics and transport sector. It is a strong, active and a unified professional association that is able to speak with authority on strategic issues affecting businesses and people in the industry and support their careers.