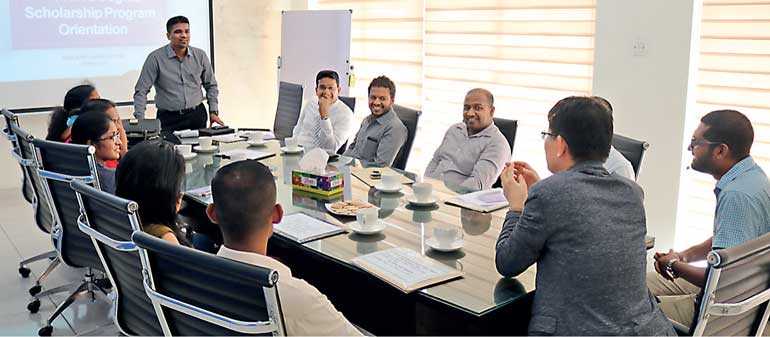 Korea International Cooperation Agency (KOICA) held the orientation for participants of 2018 KOICA Master's Degree Scholarship Program at KOICA Sri Lanka office on 20 July.

The event commenced with a congratulatory speech from KOICA Sri Lanka Country Director Lee Dong Ku, in which he mentioned: "In the history of development of Korea, importantly, talented people were the engine for the development that Korea has achieved in such a short period of time. We believe that the talented people of Sri Lanka will also foster the development of the country." He also voiced hope that this program will nurture the trust between the two countries.

During the orientation, participants learned more about KOICA and its various activities, including projects in Sri Lanka, basic information of life in Korea as well as their responsibilities. To provide first-hand experience, a fellow of the 2016 Master's program shared his experience and knowledge from the program.

This year, 9 officers have been given entrance and scholarship to participate for 8 courses in various fields, such as Agricultural Production, Global ICT Policy, Community Development, Capacity Development of Gender Equality Leadership, Water Resources Management, Atmospheric Environment, and Regulation Management for Economic Development, at renowned institutions in Korea. Once they complete the program and return to Sri Lanka, they can share their experience and knowledge in Korea with their colleagues and organisations in their respective fields, and keep working for friendship between Korea and Sri Lanka.

Since the first Scholarship fellow in 2005, from 2005 to 2017, a total of 84 government officers from Sri Lanka have received Master's Degrees through the program.

Since 1991, KOICA has cooperated with the Government of Sri Lanka to enhance the quality of lives of the Sri Lankan people, as well as economic development. One of the important means of cooperation has been providing capacity building programs, to nurture key future leaders in Sri Lanka, who can contribute to the socio-economic development of their home country. These capacity building programs are not only limited to short term training, but longer Scholarship Programs for Master's Degrees.