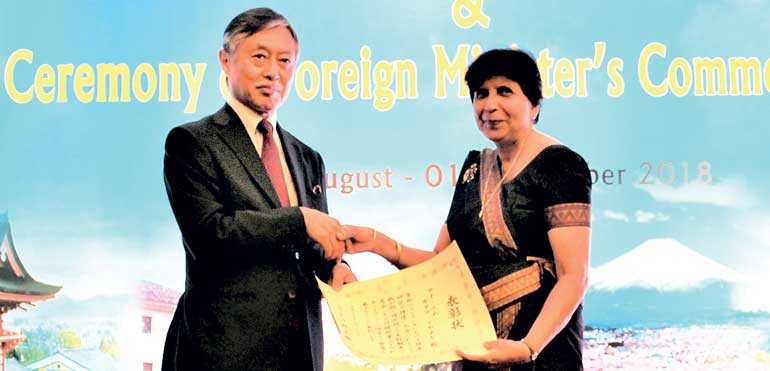 The Japanese Foreign Minister's Commendation was awarded to Professor Emerita Kamala Liyanage of University of Peradeniya by Kenichi Suganuma, Ambassador of Japan to Sri Lanka, at a special ceremony held on 31 August at Earl's Regent Hotel in Kandy.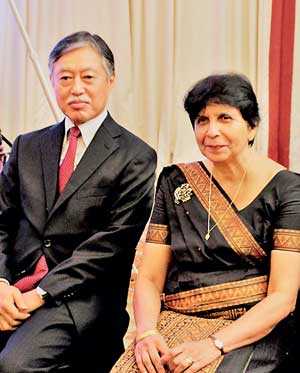 Prof. Liyanage is one of the most prominent academics in the field of political science in Sri Lanka, especially in Contemporary Japanese Politics. She was a Japanese Government scholarship recipient in 1985 and studied at the University of Tokyo.

After returning home, she devoted herself to teaching Contemporary Japanese Politics to students of the University of Peradeniya, which has greatly contributed to fostering Japanese studies among scholars, intellectuals and experts in this country.

In 2013 she made another major contribution in helping to establish the Sri Lanka – Japan Study Centre at the University of Peradeniya (SLJSC) as a founder member. Her leadership and contribution to the Study Centre enabled the annual Sri Lanka-Japan Collaborative Research Conference to develop its reputation as a distinguished academic exchange platform between Japan and Sri Lanka. Moreover, a number of Sinhala language experts of the Ministry of Foreign Affairs of Japan were trained at University of Peradeniya. Prof. Liyanage, despite her busy schedule as a university teacher, has voluntarily provided various assistance and support for such trainees, during their stay in Kandy.

This awarding is to acknowledge that Prof. Liyanage has contributed greatly to the promotion of research on Japan in Sri Lanka and the Japan-Sri Lanka friendship through her long period of these activities.

The Foreign Minister's Commendations are awarded to individuals and groups for their outstanding achievements in international fields to acknowledge their contribution to the promotion of friendship between Japan and foreign countries.