In an era when all the attention is on exploring outside, ART Television invites its viewers on a journey inwards with the author of the book 'Inward Bound', Deepal Sooriyaarachchi, interviewed by Shaveen Bandaranayake every Monday at 10.00pm.The programwill be re-telecast on Tuesdays at 9.30 am and Sundays at 11.00am.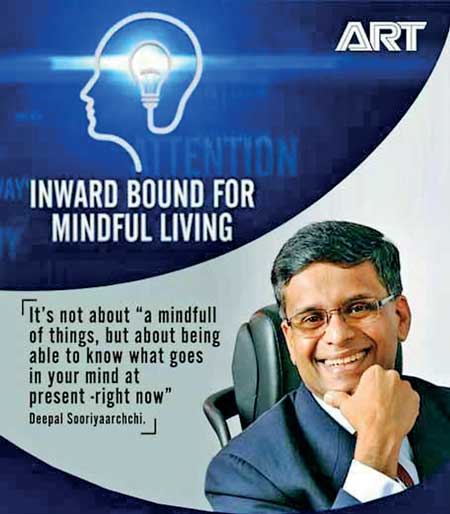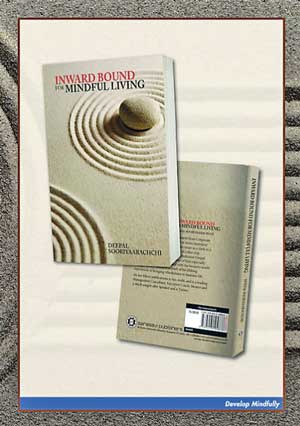 Sooriyaarachchiis a seasoned corporate executive, with over three decades of experience in leadership positions. Currently, he serves on a number of boards of leading blue-chips, while providing management development consultancy. He first published the book 'Inward Bound' in the UK introducing the practice of mindfulness, sharing a series of simple ways to practice mindfulness and sharing a host of insights. Mindfulness has gained immense popularity in the West over the last decade, owing to recent scientific evidence illustrating its numerous benefits, such as the ability to help manage stress and pain.

Sooriyaarachchi claims that he has practiced and integrated mindfulness in his corporate career over the last three decades. "I would attribute my practice as the single most influential reason for my career success, where I started my career as a sales clerk at Moosajee Sons, and ended up as the MD of AVIVA NDB Insurance.I was fortunate enough to get introduced to the practice of mindfulness very early, almost around the time I got my first job. I continued my practice of mindfulness ever since. Looking back, I can say that it helped me to be more aware about myself, my strengths and weaknesses, I found it easy to build relationships, and that all my stakeholders trusted me. In most challenging moments, and in moments of ambiguity, I could approach those situations with a space, so my views were more objective than otherwise. I increasingly became a good observer. This practice helped me to be in command over myself most of the time," he said.

"Even in my personal life, I benefited from this practice. I became more sensitive and responded to life, rather than reacting mechanically through habit. It certainly helped me in balancing the demands from work, as well as from my family.Inward Bound discussion explores the practical aspects of mindfulness, and how it can be integrated by busy executives, or for that matter any one," he further added.

Rather than a typical Q&A type interview, this programwill be a more real-life discussion where Shaveen Bandaranayake and Deepal Sooriyaarachchi investigate the topic together. An interesting feature of the program is the practical nature and sharp insights that may have powerful benefits for the listeners.Some topics in the episodes to come include: Being attached and letting go; How to enjoy the journey; Empathy and being mindful; See your potential; When should I practice mindfulness; Multi-tasking vs. mono-tasking and Mindfulness in meeting management.