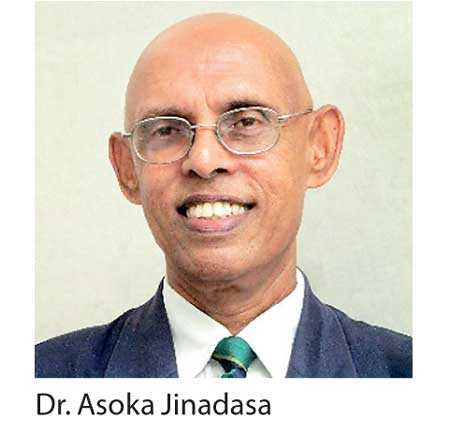 Leadership expert Dr. Asoka Jinadasa to present a practical framework at Ceylon Chamber of Commerce Auditorium on 25 July
To succeed in today's fiercely competitive commercial world, every organisation needs leaders who can inspire their teams to serve fast-changing market needs, better than their competitors. However, transforming managers into leaders is hindered by the absence of a simple and actionable framework for leadership skill development.

The Ceylon Chamber of Commercetogether with theaward-winning leadership expert Dr. Asoka Jinadasahas scheduled to present a practical framework at the Ceylon Chamber of Commerce Auditorium at Nawam Mawatha on Wednesday 25 July from 2:30 p.m. to 5 p.m.

"Being a leader is very different to leading a team or activity. Leaders must inspire and help others create the future of their organisations while consolidating present successes. They must make complex judgements that pave the way for success, while recognising the fundamental nature of business uncertainty. They need the Wisdom to know what to do in a fast-changing world, and the Skills to do what is needed or get it done through others," explained Dr.Jinadasa.Developing such leaders from a practical perspective remains one of the biggest corporate challenges.

Ineffectiveleadership development

Conventional extrinsic leadership development has failed to produce leaders who can sustain organisational success in today's VUCA world (Volatile, Uncertain, Complex and Ambiguous – an acronym coined by the American Military to describe extreme conditions in Afghanistan and Iraq).

For example, US companies spend almost $14 billion annually on leadership development. But, research studies show that 75-87% of organisations say their leadership development programs are ineffective. Conventional leadership programs have failed to balance analytical thinking with the creative and intuitive insights that are essential for corporate success in today's VUCA world.

Character-based leaders

Not having a clear leadership model led to the proliferation of position-based leaders where people in higher positions were considered leaders, without considering their leadership skills. This has been one of the biggest obstacles to organisational success.

The flattening of organisational structures in response to fast-changing operating conditions has created the demand for leadership skills at every level. This requires character-based leaders who adopt a leader's attitudes and behaviours, regardless of their hierarchical position in the organisation.

Effectiveleadership development

"Intrinsic leadership development unleashes the vast inborn analytical and creative abilities managers at all levels instinctively use in their everyday lives at work and home. It develops their inborn skills and helps them adopt a leader's attitudes and behaviours, regardless of their position within the organisation," explained Dr.Jinadasa, who willpresent his award-winning six-dimensonal foundation and five-step framework for leadership development.

Six-dimensional foundation

Hissix-dimensional holistic foundation for leadership skill development is symbolised by Heart (caring for all living beings and our environment); Mind (concrete, abstract, emotional and spiritual intelligence); Body (physical, mental and emotional energy); Passion (emotional fuel to achieve outstanding results); Focus (resilience to reach difficult goals despite setbacks) and Health (natural health, despite stressful working conditions).

Five-step framework

Hisfive-step framework for developing intrinsic leadership skills through human potential development covers theLeadership Foundation (Heart, Mind, Body, Passion, Focus and Health); Emotional Intelligence (managing negative emotions in you and in others); Coaching and Mentoring (unleashinginborn human potential), Creativity and Innovation (nurturing creativity for focused innovation); Speakingand Presenting (speaking clearly and influencing others).

Presenting new concepts

The Ceylon Chamber of Commerce is dedicated to bringing forth new innovative ways to boost the corporative members'competitiveness and performance in a fast-changing commercial world. Providing a new framework for effective leadership development is the purpose of this presentation.

CCC invited Dr. Asoka Jinadasa to share his new concepts on leadership and human capital development,whichhe has presented at 14 international conferences in six countries. He will make a 75-minute presentation followed by an extensive question and answer session.

Dr.Jinadasa is a UK Chartered Engineer with a US PhD in Business Strategy and decades of top-level management experience in USA, Europe and Asia. He is also the author of the international award-winning self-coaching book, 'Flying Penguin'.

He is the Founder of the Intrinsic Leadership Academy, headquartered in Colombo. Their 8,000-word website providesa wealth of information on practical leadership development that is supported by 56 online references: www.intrinleaders.com

For registration, please call 011-5588882/5588877 or email [email protected] or [email protected].