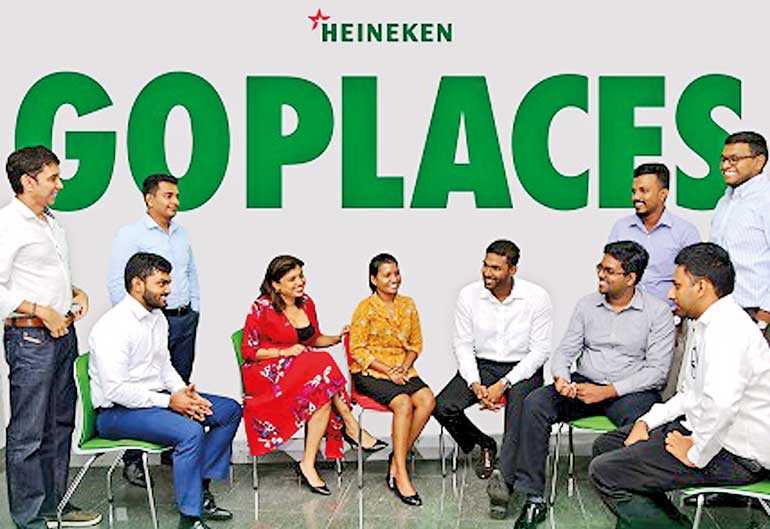 Heineken International recently launched an innovative new employer branding campaign called 'Go Places 2.0', inspired by the real and exciting experiences of employees, to engage and inspire future talent.
The campaign as per its name, seeks to employ professionals with a thirst for knowledge and a spirit for adventure. With a curious mind and a broad skill set, these professionals embody the company's core values and culture that sets them apart from its competitors.

Go Places 2.0 is a continuation of Heineken's Go Places campaign, launched in 2016, which focused on making the online application process personalised, compelling and interactive with the aim of attracting dynamic talents.

As part of its 'Go Places 2.0' initiative, Heineken has successfully launched two graduate programs in Sri Lanka, namely The Asia Pacific Graduate Program (APGP) and the Heineken Lanka Graduate Trainee Program (LGT).

The APGP is a regional program managed by Heineken Asia Pacific (APAC), where graduates from across the Asia Pacific region are chosen for Heineken Operating Companies in the geographic area. Typically, graduates on this program join Heineken in entry level positions and enjoy accelerated career progression with developmental opportunities along the journey.

APGP is a two-year program consisting of four assignments of six months each. The unique feature of this program is that two of these assignments will be carried out overseas within the Asia Pacific region. With a highly competitive selection framework, the program attracts over thousands of applicants and top talents of diverse backgrounds are recruited.

In 2017, Sri Lanka recruited its first APGP cohort of seven graduates with rotation opportunities granted in countries such as Laos, Thailand, Singapore, Malaysia, Philippines, East Timor, Vietnam and Indonesia with recruits graduating to assume managerial roles within the organisation. The recruitment cycle for the APGP program begins in October each year with an intake in July the following year.

The LGT Program on the other hand also provides a unique experience to graduates exposing them to a multi-national work environment including a short overseas stint embedded into the training plan. The new batch of graduate trainees was recruited on 1 August, and will work in various areas such as supply chain, logistics, sales, human resources, finance and information technology. Both programs have been tailored to provide individualised learning experiences for the graduates with mentoring and coaching carried out by regional and local mentors.

Commenting on the company's graduate program, Heineken Lanka Ltd. Managing Director Dusty Alahakoon said: "We are very confident that these programs we offer will create a new generation of professionals, driven to achieving new levels of success in all realms of life. We are committed to providing our staff with global standard training and development, preparing them to face the international arena with enhanced skills combined with multi-level exposure and experience. Through these programs, our recruits will be leveraged to expand their capabilities and thus be easily absorbed into the broader global Heineken network."

Heineken Lanka Ltd., formerly known as Asia Pacific Brewery (Lanka) Ltd., is a subsidiary of Heineken Asia Pacific and Heineken International. Heineken Lanka has over 300 permanent employees in the brewery and across the sales and distribution network that spans the entire country and boasts a portfolio of 12 iconic brands, which includes a range of global, regional and local lagers, stouts and ciders. Heineken Lanka operates a brewery in Mawathagama, Kurunegala, which has been in continuous operation over the past 20 years.