The Asian Regional Training and Development Organisation (ARTDO) will hold its 46th annual conference for the first time in Sri Lanka from 23 to 25 September at the Hilton Colombo organised the by Centre for Leadership and Training Development (CLTD). This renowned annual conference recognised by HR Gurus and leaders in the human resource and talent development industry has been held in countries such as Australia, Egypt, Malaysia, India, Philippines, Indonesia, UAE, Macau and Taiwan. This year's theme 'Shaping A Sustainable Future' will cover many areas such as women's empowerment, women's role in nurturing the future workforce, governance for transitions maintaining a sustainable future in uncertain environments, developing a new-Gen Z future workforce, talent assessment through artificial intelligence, AI, IoT and STEM in social enterprises, technology management and sustainable dividends, sales transformation, seasons of life's transitions / reinventing oneself to meet future challenges, emotional excellence – knowing self and others, and applied emotional well-being.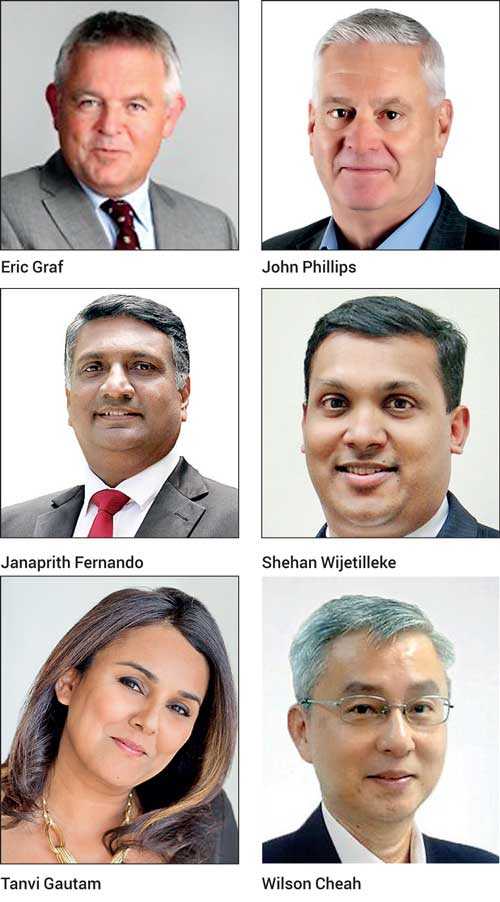 There are 24 speakers from 13 different countries contributing their wealth of knowledge and sharing their experiences to support Sri Lankan corporates, Governmental institutions, Non-Governmental Organisations and individuals in enhancing their skills as corporate leaders.

The following is a brief introduction to a few prominent and vibrant speakers at this year's conference.
Eric de Graaf – Governance for Transitions: How the Government Can Make a Change

What are some of the big changes and wicked problems the Government has to tackle? How to plan and make policies for big transitions? These are some of the questions central Government have to deal with. How can we change and be more agile in organisations? What are the experiences with shaping the culture within a department, how are we going to be more innovative and what role does leadership play in these endeavours? These and more will be answered from a practitioner's view.

Eric de Graaf MPA is a director in the central government of the Netherlands and a practitioner with a wide experience. For the past five years, he has been a member of the government-wide board of HRM-directors. Currently, he is Director Governance and Innovation of the Netherlands Ministry of Defence. His special topics are leadership, social innovation and cultural change within the Ministry. These subjects are essential for the transformation of his department and for the Government as a whole to meet the changing needs.
Shehan Wijetilleke - Leadership Styles in the Digital Age

Hailing from Sydney, Australia, Wijetilleke has 30 years' experience in demand creation around advisory services, which has grown into a $100 million professional services business with Australia's largest technology firm. Shehan has worked for IBM, Telstra and Huthwaite in senior executive roles and now operates the Laurus Mark Consulting Firm which helps clients grow their revenue line using its Digital-ready Business Development Methodology. He is the author of Winning Strategies: The 9 Steps Blueprint to Grow Sales.

Wijetilleke's session focuses on how the elements which outline today's digital technologies — smartphones, social media, Internet of Things, data analytics — have created new areas of value that are delivered by new business models. Digital disruption not only plays a key role in introducing new leadership styles, it increases pressure on leaders to be highly adaptable for their businesses to survive and perform effectively. What style of leadership is required to cope with these constant changes?

Rapid accelerating digital technology and business model change drives the volatility of business environments, requiring a new management approach. This session takes a broad look at the challenges facing leaders today and what can be done to help them prepare.
John Philips – Sustainability Practices in the Environment

Another remarkable speaker from Adelaide, KESAB Australia's Executive Director John Philips comes with significant experience in community engagement, project management and delivery in partnership with all levels of stakeholders. He has identified social enterprise opportunities with practical understanding and experience in remote aboriginal communities and India.

He has also held positions such as the National President of Apex Australia 1986, Life Governor of Apex 1988, Member World Service Clubs 1989, Order of Australia 2000, Vice President of Waste Management Association Australia and was awarded EY Entrepreneur of the year 2012 (Social - Central Region) and Winner of United Nations Association of Australia Sustainability Education Award 2015.

Philips's session will focus on the scope of sustainability in the context of understanding what it means to stakeholders, government, corporate and community.

It will touch on how businesses respond through policy, engagement and education for change, sharing influences and actions in sustainability through case studies.
Wilson Cheah – Emotional Excellence: Discovering Yourself and Others

This facilitator from Vietnam has gained valuable and practical work experience in financial literacy and emotional excellence and held key leadership positions in banks such as DBS Bank, Hong Leong Bank, Public Bank and RHB Bank Bhd (Vietnam and Myanmar). Additionally, he was CEO of Halong Canned Food Joint Stock Company, one of the oldest public listed companies in Vietnam. During his leadership at the manufacturing concern, he renewed its vision, reworked its strategies and enhanced its distribution network and operations to meet the demands of the 21st century.

Wilson has been recognised by the Vietnamese Government with the 'Bang Khen' or Merit Award for his contributions to the growth of the economy. He has also received a Merit Certificate from one of the biggest banks in Vietnam, Bank of Investment and Development of Vietnam (BIDV).

In his practical workshop session at this conference, Wilson will share his thoughts on leaders who know themselves and others well and it contributes to their success in corporations. A multi-national organisation will be showcased as a case study.

Attendees will also participate in an online questionnaire which will generate a personalised report summarising who they are and important areas which they need to further develop.
Dr. Tanvi Gautam – Narrative and Business Storytelling for Digital Transformation

Dr. Tanvi Gautam is a global keynote speaker, author and C-suite adviser who has received the Game Changer Award by Workforce Magazine USA, the Change Leaders of Tomorrow Award by the Asian Thought Leadership Conference, Asia's Women Leaders Award 201 by the World Women And Leadership Congress, and is ranked among the top 25 HR influencers on social media by SHRM-I for five consecutive years.

She is an ICF certified business story coach for transformational leadership and purpose-based brand storytelling. In her session she will share how leaders utilise the powerful medium of stories to engage and motivate stakeholders and employees to go along the journey of digitisation, bringing with her the wealth of experience she has gathered by training leaders from Microsoft, Exxon, Mastercard, Dell, Medtronics, TNT, Accenture, Merck, NetApp, Juniper and Verizon among others.

Meet these carefully-selected prominent speakers at the 46th ARTDO Conference. For further details log into website: www.artdo46.info or call 0767318211.