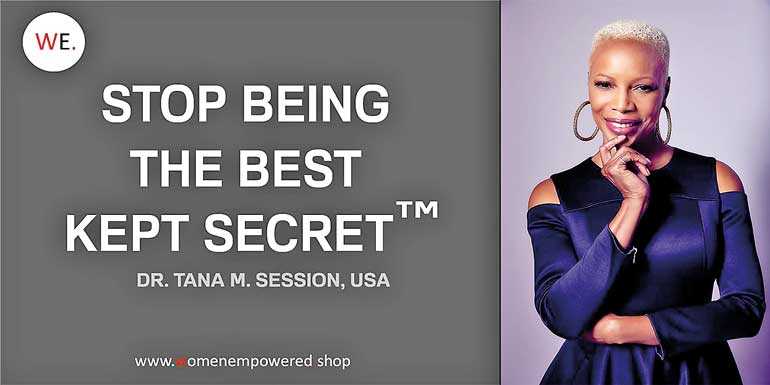 Creating learning and networking opportunities on the global stage, for local graduates, startups, entrepreneurs and young professionals
Women Empowered Global (WEG), has announced the launch of its Global Online Academy in Sri Lanka. Under this move, the organisation will make access to top-notch global business experts, leaders and think-tanks possible and will build capacity and create networking opportunities for Sri Lankans with global learning environments and global participants.

The WEG Global Online Academy will be Sri Lanka's first growth accelerator for millennials and emerging leaders. The virtual training hub was conceptualised to offer its members global access to an international panel of best-in-class award-winning business mentors, motivational speakers, global influencers, coaches and mentors from diversified backgrounds.

In its mission to offer carefully curated e-learning opportunities, WEG is determined to empower individuals through guided personal development programs and international networking opportunities, who want to take their skills, knowledge, and exposure and career stage to the next level.

"We will be offering several scholarships to attend some of our key global speaker events. We believe that education, and giving access and opportunities to learning and personal growth is a basic human right and necessity. Strong economies are built around strong minds and talent pool. Our global academy works with multi-award-winning speakers and business leaders to design knowledge enhancing and multi-skilling learning modules that are not readily available to access currently in the country.

"For example, we conduct a special entrepreneur mindset training series and cover other various topics that addresses the mindset of the individual. While standard training approaches focus on the skill-set, we believe that mindset training is paramount. We have tied up with Sri Lanka's pioneering leader in public seminars and workshops, McQuire Rens & Jones, to extend our online services to in-person group-coaching programs too. We have also tied up with McQuire Rens Global Consulting, an associate of McQuire Rens & Jones, well known for its engagements in business consultancy, corporate restructuring and executive coaching," commented Women Empowered Global CEO Senela Jayasuriya.

Powered by its motto, 'Connecting Global Participants with Global Leaders', the WEG Business & Career Academy caters to the requirements of both women and men in business, entrepreneurship, corporate and other professions, united in a singular focus of being serious achievers. Its value additions include exciting and vital topics ranging from business, marketing, sales, and personal branding to networking skills and cash flow management, delivered by award-winning credible speakers based in diverse locations, such as US, UK, Africa, Switzerland, Netherlands, Malaysia, Singapore, UAE, Australia, China to name a few.

"WEG is all about helping individuals overcome self-limiting beliefs and reach their potential. We're all about taking that inner dream and turning it into the reality that it deserves. We want to bring out that inner strength, creativity and confidence to enable our participants to reach their fullest potential; to be able to walk ahead with self-assurance and dream bigger than before," continued Senela.

WEG recently concluded its latest online training program, 'Stop Being the Best kept Secret,' through its Global Online Academy at https://www.womenempowered.shop/ with Dr. Tana M. Session (USA), a Women Empowered Global partner and an award-winning, WMBE-certified coach and consultant who was recognised as a Huffington Post 'Top Female Expert to Follow in 2018'.

The academy seeks to provide outcome-based learning that can readily be applied in the learner's life. The growth accelerator commits to maintaining exceptionally high quality content, at all times. As its continual quest for quality delivery, the academy announces its next featured speaker, Arleana Waller, an award-winning entrepreneur from USA who will be conducting a live class on 'How to grow your customer base'. As is the case in all its sessions, this will be in the form of live webinar, presenting its participants the world over with a highly-interactive Q&A forum to mingle with the featured speaker, and participants from Europe, USA, Africa, Sri Lanka and other locations.

Also featured in the portfolio of resources of the academy are an archive of pre-recorded courses by experienced and highly credible speakers and experts from around the world, for the benefit of its members. Furthermore, WEG supplements learning avenues with the scope for opportunities for scholarships and participation.