Future Minds Head of Commercial Sposorships Buddhi Wattampala, Future Minds General Manager Shehan Kahandagamage, Future Minds Chairman Kasun Perera, Future Minds Advisor Sameera Liyanage, Future Minds Advisor Chathura Lakindu, Future Minds Head of Sales Dilan Dissanayake
Exhibition to be held at BMICH in JuneContinuation in Kandy and Galle in June and
September respectivelyHigher education programs representing universities from more than 10 countries
Career guidance and financial support zones available at exhibition
By Ruwandi Gamage
Future Minds, the higher education hub and career gateway exhibition is to be held in Colombo, Kandy and Galle this year, while continuing to provide career guidance and financial support services for the youth participants.
Entailing the theme 'No one left behind', the exhibition is aimed at youth who are keen on continuing their higher studies privately. The exhibition will be held at BMICH on 14, 15 and 16 June, then at Kandy City Centre on 22 and 23 June, and finally at Hall de Galle on 7 and 8 September.
The exhibition will showcase a choice of higher educational programs from an array of universities from countries such as the UK, Australia, Singapore, Canada, US, Japan, Malaysia, New Zealand, Russia, China and India.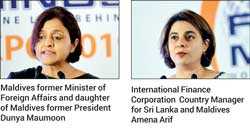 The attendees will undergo an orientation program as they visit and will then require completing a psychometric test carried out by professional counsellors from the Professional Counsellors Association, to identify dynamic abilities of students.
The students will be then directed to have one-on-one sessions with industry veterans from multiple fields such as Engineering, Biological sciences, Banking and Finance, Business administration, Marketing and Logistics, to discuss educational options required by organisations.
The Future Minds exhibition will also entail a financial zone as a means of extending further support for attendees to fulfil their future aspirations. The organisers have decided to continue to deliver this feature after the reception they have received last time when they introduced it.
Gracing the media launch, Maldives former Minister of Foreign Affairs and daughter of Maldives former President Dunya Maumoon expressed her delight at the initiatives given green light by the Government of Sri Lanka that abides by the United Nation's Sustainable and Development Goals (UNSDG), such as these exhibitions and recalled the part Sri Lanka has played in the education of Maldivians.
"Sri Lanka is home to many Maldivian youth who are here for an education. Sri Lankan teachers are vital in the establishment of modern education in the Maldives. I remember a number of Sri Lankan teachers who taught my siblings and I when we were in school and who acted as our mentors," she added.
International Finance Corporation (IFC – World Bank Group) Country Manager for Sri Lanka and Maldives Amena Arif, speaking at the event, expressed her appreciation for Nalanda College for initiating and organising the exhibition for over a decade, and for the education providers present.
"I'm grateful for your vision, dedication and commitment to the goal of providing higher education to many students and youth," she said.
For more details about Future Minds 2019 Higher Educational and Career Exhibition and pre-visitor registrations, visit www.futureminds.lk.
Pix by Shehan Gunasekara