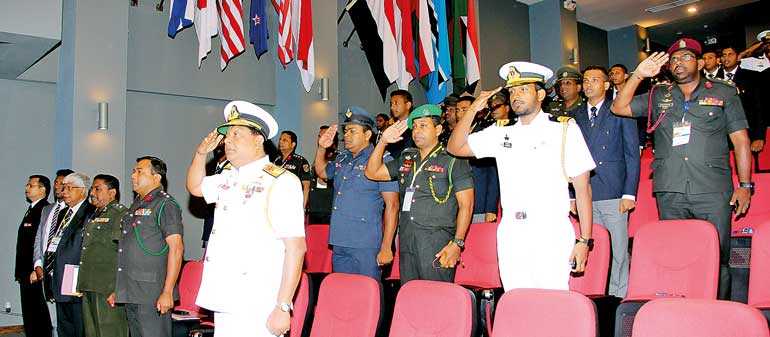 The award for the Best Security and Strategic Studies Presentation at the 11th International Research Conference of the General Sir John Kotelawala Defence University was presented to Defence Analyst and former War Correspondent Asif Fuard.

The research paper titled 'Countering Terrorism and Violent Extremist Propaganda through Strategic Communications in Sri Lanka', authored and presented by Fuard, analysed Islamic extremism and Sinhala Buddhist extremism in Sri Lanka and provided recommendations on an integrated and collaborative strategic communication framework to counter violent extremism.

"Faith-based extremism is a security dilemma which is currently prevailing in many nations. Apart from Islamic extremist terror groups such as ISIS which have captured global attention, the world has experienced the rise of Christian extremist groups in Africa, Neo-Nazi extremist groups in Europe, Buddhist extremist groups in Myanmar, white supremacist groups in United States and Hindu extremism in India. The key driving force of all these extremist groups is their ideology and propaganda mechanism. The advent of social media has enabled violent extremist groups to engage a much larger audience than ever before," Fuard said, addressing an eminent gathering of academics, diplomats and senior military officers at the conference. "The asymmetric nature of terrorism in today's world is such that a non-combatant can easily evolve into a combatant if the right motivation is provided and the right image is portrayed. Social media and the internet alone do not instantly radicalise an individual. Radicalisation is a process and the internet merely acts as a tool or a catalyst used by extremist groups to take their message to a much wider audience," he said

He stated that the objective of Strategic Communication was to employ strategies and tactics to prevent extremist violence and to prevent non-combatants from evolving into violent extremist combatants.

"Extremism in all its manifestations is a grave threat to national security which needs to be addressed. The absence of a unifying national counter narrative limits Sri Lanka's ability to effectively fight violent extremism within its borders. Strategic Communication is a force multiplier and its applications to counter terrorism and extremism can be implemented at the strategic, operational and tactical levels. In this age of propaganda warfare, it is the need of the hour to take the appropriate steps to counter the rising tide of extremism," he said.

Last year, former Sri Lanka Navy Commander, Admiral Dr. Jayanath Colombage, was presented the award for the best presentation at the 2017 KDU International Research Conference.