Capability building, learning and growth opportunities, 'people initiatives' at heart of dairy co-operative
Fostering leadership across an organisation may prove to be a unique "leveller" in today's world, according to the Forbes Coaches Council, an expert community of top coaches.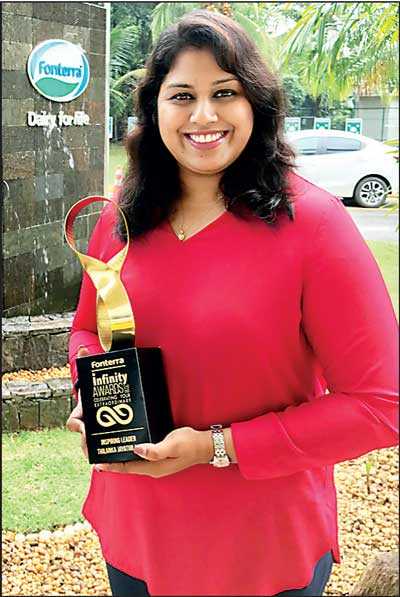 Inspiring Leader Award winner Thilanka Jayathilake will continue to empower and grow staff in her new exciting role as head of HR for Fonterra's JV business in India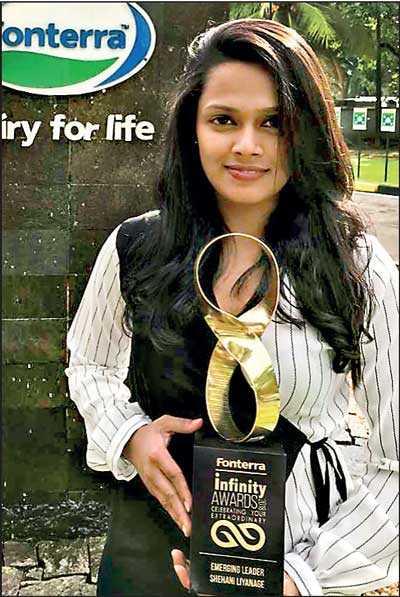 Shehani Liyanage was presented with the Emerging Leader Award for rallying team members across functions to successfully drive the launch of key innovations for the business


Moving forward, more employees will have a taste of leadership and be called upon to assume at least temporary leadership roles, like taking the lead on a special project.

Fonterra Brands Sri Lanka Human Resources Director Dinusha Jayamanne agrees.

"As part of our organisation's commitment to shaping extraordinary destinies for our people, we recognise the importance of building great leaders with the right capabilities and mindset."

Employees across the dairy supply chain were in the running for honours as part of the Co-operative's Fonterra Infinity Awards 2018, held recently to recognise inspiring and emerging leaders amongst 30 other top performing individuals and teams.

"This year we've made multiple strides by building new capabilities that will help us become a future-ready organisation, able to take on the macroeconomic challenges of tomorrow. We've been recognised as a global talent hub that provides growth and development opportunities. The Fonterra Infinity Awards are the annual appreciation of our teams' hard work throughout the year and a chance for us to celebrate their extraordinary achievements," said Jayamanne.

"Last year's leadership award winners have gone on to make great strides in their careers and we have no doubt that this will continue for the top performers and leaders recognised this year."
Inspiring Leader Award
The Fonterra Inspiring Leader award honours an outstanding senior member of the team who has inspired their colleagues to grow and demonstrated leadership traits, while keeping Fonterra values at the core.

This year's award was presented to Fonterra Brands Lanka HR Business Partner Thilanka Jayathilake.

"Amongst many inspiring examples throughout the year, Thilanka has inspired a mindset change and built capabilities within the sales function, one of our largest teams, to help it undergo a complete transformation," said Jayamanne.

"She enabled this smooth transition by building a new sales structure, acquiring new capabilities and up-skilling existing teams in anticipation of future growth."

Speaking about her experience, Thilanka said: "Leading authentically and with passion becomes a positive influence on your team and colleagues. Being myself and looking at the positive side of things has always enabled me to make a difference to individuals and help them realise their potential."

"Fonterra's learning culture is an enabler to unlock people's capabilities and help them grow. For me, actively learning every step of the way for example through online learning platforms the organisation provides, being a part of cross-functional, agile teams and leading key projects like the Sales transformation process, have contributed immensely to my invaluable experience at Fonterra."

In January 2019, Thilanka's learning journey takes an exciting step forward when she moves to India to help establish the team in Fonterra's newly set up JV business - 'Fonterra Future Dairy' - as its Head of HR. She follows in the footsteps of previous award-winners who have taken on enhanced opportunities within the global co-operative.
Emerging Leader Award
The Co-operative also presented the 2018 Fonterra Emerging Leader Award to Brand Manager Shehani Liyanage.

Liyanage was responsible for launching key innovations for the business, rallying her team members across functions and showing all the signs of a Fonterra leader in the making. By managing several rounds of rigorous product testing to meet tough launch deadlines, she ensured that these innovations lived up to their promise of delivering high-quality dairy nutrition to consumers.

"In addition to these efforts, Shehani demonstrated an enterprise mindset and co-operative spirit through her contributions in a number of areas apart from her core role. Well done to Shehani," said Jayamanne.

In total, more than 30 awards were presented to top performers and business partners with every part of the business being recognised.