Expolanka Toastmasters Club held its annual installation of office bearers for the year 2017/18 at the EFL Campus Auditorium in Wellampitiya last week.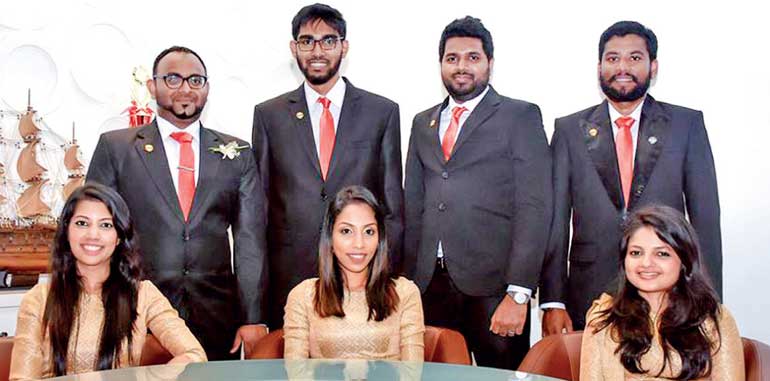 Expolanka Toastmasters Club Committee 2017/2018: Seated from left: TM Kavya Palagolla, VP Membership; TM Sharon Rodrigo, VP Education; TM Safiya Ismail, VP Public Relations Standing from left: TM Gazzaly Moulana, Treasurer; TM Hisham Yasir, President; TM Thiwanka Premathilaka, Secretary; TM Usman Jauffer, Sergeant At Arms
Held for the sixth consecutive year, the ceremony saw the participation of Expolanka Holdings PLC Founder/President Hanif Yusoof as chief guest, while Club Growth Director of District 82 Toastmaster Sarmaa Mahalingam graced the occasion as guest of honour.

Chartered in 2012/13 following two successful Speechcraft sessions, Expolanka Toastmasters Club is one of the few clubs in Sri Lanka to have been awarded the prestigious President's Distinguished Club from Toastmasters International every year running since its charter year.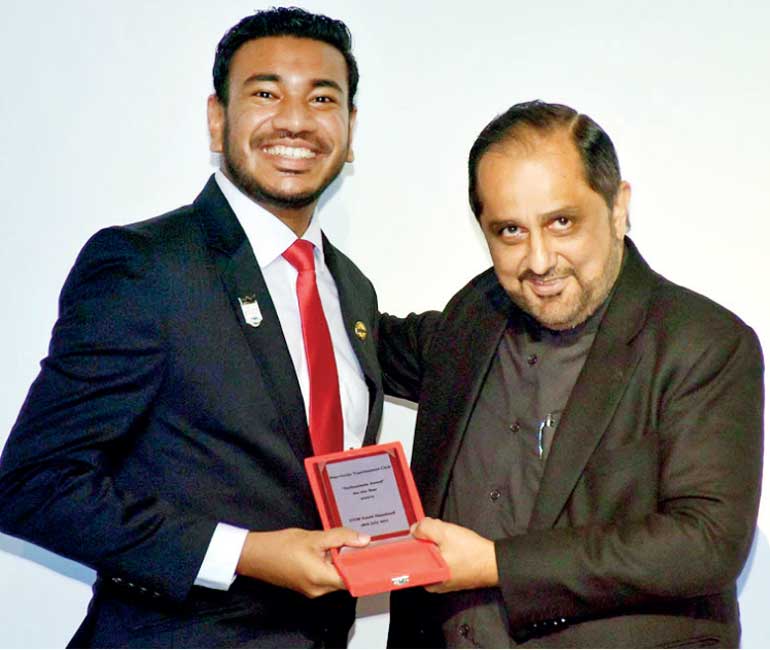 Distinguished Toastmaster Zaidh Naushard receiving the award for the best attendance at educational meetings for the year 2016/17
The club intends to continue in its endeavour to become a platform for its members to enhance their communication and leadership skills, while simultaneously maintaining its entertaining and high spirited meeting atmosphere.

The installation ceremony was an eventful one with entertainment and inspiring speeches in the presence of a large gathering of eminent Toastmasters, family members of the executive committee, distinguished guests, past members as well as the management team. This year, the installation ceremony was a celebration of the short yet vibrant legacy of Expolanka Toastmasters as they reflected on their journey, under the theme 'Down Memory Lane'.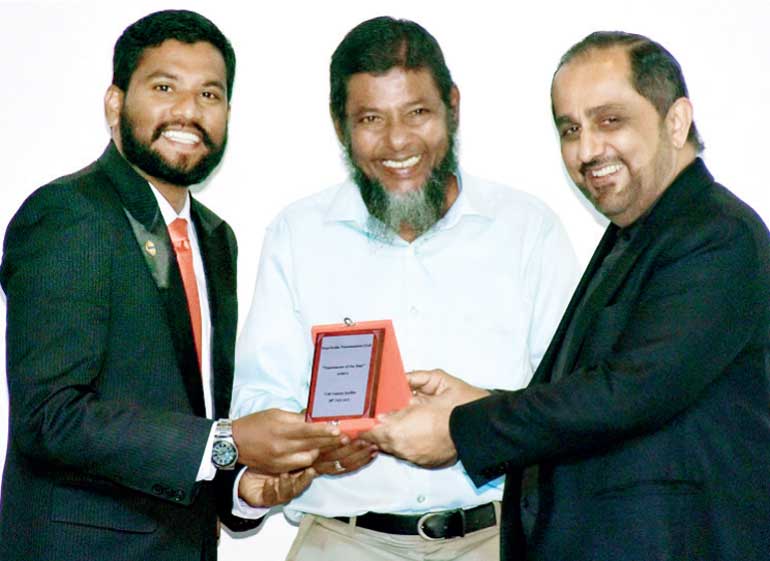 Toastmaster Usman Jauffer (accompanied by his father) receiving the 'Toastmaster of the Year 2016/17' Award from Expolanka Holdings Group CEO Hanif Yusoof
Toastmaster Usman Jauffer of Classic Travels Ltd. was bestowed with the coveted 'Toastmaster of the Year' award. During 2016/2017, Toastmaster Usman Jauffer represented Sri Lanka from Expolanka Toastmasters at the district level contest for humorous speech held in Vellore, Chennai, having successfully emerged as Champion at Club, Area, and Division level contests.

The award for 'Best Attendance of the Year' was bagged for the second consecutive year by Toastmaster Zaidh Naushad. Having exemplified consistency since the charter year of Expolanka Toastmasters Club, Zaidh Naushad also brought much pride and appreciation to Expolanka Toastmasters last year as he achieved the title of Distinguished Toastmaster – the youngest ever to achieve the DTM title from his home club Expolanka Toastmasters in the month of July 2017.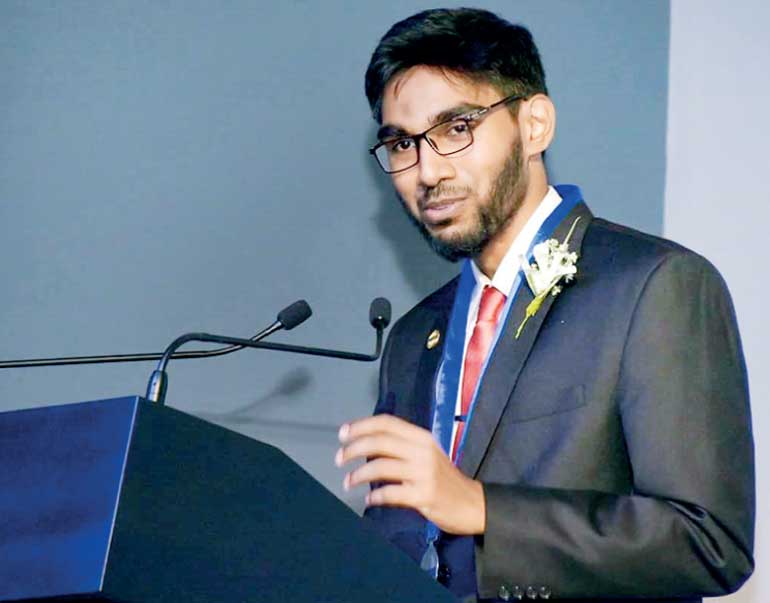 President Toastmaster Hisham Yasir delivers his speech upon being appointed the president of the club for the year 2017/18
The ceremony was chaired by Toastmasters Safiya Ismail and Kavya Palagolla, and President TM Hisham Yasir, VP Education Sharon Rodrigo, VP Membership Kavya Palagolla, VP Public Relations Safiya Ismail, Secretary Thiwanka Premathilaka, Treasurer Gazzaly Moulana and Sergeant at Arms Usman Jauffer were installed for 2017/2018 by Area Director, District 82 – Area F2, Toastmaster Ganga Fernando.

The immediate Past President of the club, Toastmaster Darren Pullenayegam briefed the gathering on how 'valleys in life are meant to be conquered and not stop you' based on his experience as President last year.

In an inspiring speech highlighting his thoughts on leadership, challenges and the importance of resilience, chief guest and CEO Hanif Yusoof expressed his gratitude to the senior members and past and newly elected executive committees, whom he referred to as pillars of the club, for their efforts.

Guest of honour Mahalingam, in his speech, shared insights on the importance of Toastmasters and how it helps a corporate structure to achieve its vision through the positive attitude and energy the members bring into the company.

Concluding the formalities, the newly elected President Toastmaster Hisham Yasir gave a moving speech on the importance of the Toastmasters movement, noting that "We have one life; hence we might as well take a chance on what we love to do."