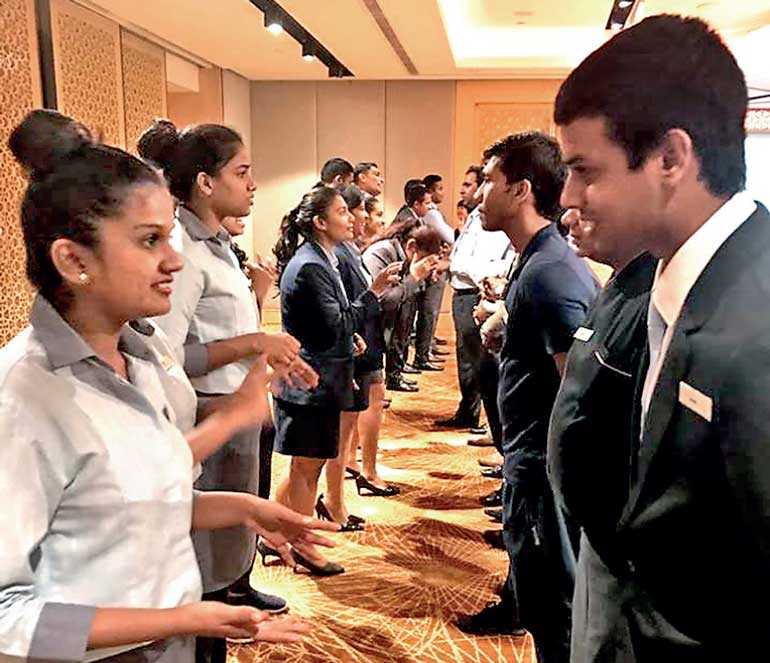 Corporate training with internationally-endorsed benchmarks is offered by the Rainbow Institute of Communication and English.

A unique feature is that this international training is delivered with Sri Lankan warmth and hospitality and adapted to meet the needs of Sri Lankans. The high calibre trainers understand the real needs of Sri Lankans and empathise with them. Hence they are able to successfully guide and motivate learners to become effective and confident communicators.

The Rainbow Institute is an exam preparation centre for Cambridge University English, UK and a training provider for the Department of State of the Government of the United States of America.

Located in the heart of Colpetty, with branches in seven districts in Sri Lanka, the Rainbow Institute is set up by a group of eminent academics and professionals. All instructors have rich experience in teaching English, high qualifications and international exposure.

Using the latest interactive and participatory methodology, it ensures that the learning experience is enjoyable and impactful.

The training for corporates is tailored to meet specific requirements of employers to upgrade communication skills of staff at all levels; basic English for beginners, business English for middle level and advanced level communication for those at the higher level. Rainbow Institute also provides corporate clients with its popular public speaking and presentations skills training for staff who are fluent in English. They offer training to develop soft skills, of staff, including business etiquette and grooming too.

The institute works closely with the client's HR or training department, to identify the specific needs of the staff. They monitor each individual staff member's progress continuously and provide regular feedback to the clients.

The duration of training can range from a full-day training workshop, to long-term training for six months to one year. Companies can opt to have instructors visiting their premises to conduct the training or send their employees to the well-equipped training facilities at the Rainbow institute's premises in Colpetty.

Rainbow Institute also offers highly-sought-after public speaking and presentation skills or speech craft training conducted in the evenings or Saturdays for small groups at its premises in Colombo 3.

Its annual public speaking interactive seminar is scheduled for the fifth year in succession on Tuesday, 28 August at Hilton Residencies. This is another opportunity to empower staff.

A highly-sought-after service by its corporate clients is individual coaching for high level staff. Such coaching in public speaking and presentation skills or Business English is arranged to cater to special needs of clients. An instructor will work closely with the official and conduct training according to times suited to client. Confidentiality is assured.

Some of the Rainbow Institute's key corporate clients are: MAS Holdings, NTB Bank, Standard Chartered Bank, Sampath Bank, AIA Insurance, Bartleet Group, Fonterra Brands, John Keells Foundation, Central Finance, Ceylon Tobacco Company, Hilton Hotel, Hilton Residencies, Samsung Korea, Embassy of the United States of America, Canadian High Commission and Embassy of Saudi Arabia.