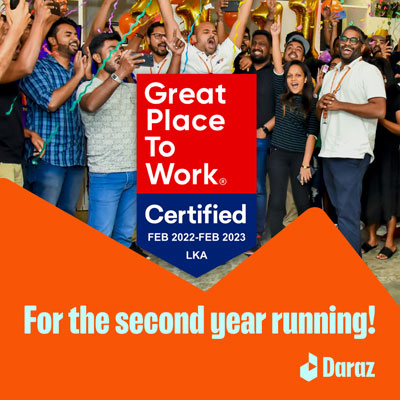 Renowned for its unique, healthy workplace environment that upholds equality and team efforts, Daraz Sri Lanka earned the prestigious Great Place to Work® Certification for the second year running, reinforcing its presence as a beloved people's place of employment.
Daraz is deeply committed to providing a safe place for the ambitious youth to fulfil their dreams, while fulfilling its own purpose to fuel the growth of the digital economy across the island nation. In testament to this, at this year's poll, 89% of employees agreed that they were treated fairly regardless of their race while 88% shared that they were treated fairly regardless of their gender and 88% also stated that they were proud to be employed at Daraz.
From opening up avenues for knowledge sharing and engagement to making each individual feel comfortable and empowered to face new challenges, while constantly paying attention to creating a progressive workplace culture, Daraz strongly believes that achieving its vision of uplifting communities through the power of e-commerce begins with its employees. This is why the e-commerce marketplace also scored high in employee satisfaction, where credibility, camaraderie, and fairness to all played a significant part.
Daraz's focus on its people is evident through its vibrant workplace culture and year-round engagement efforts that aim to keep its Millennial and Gen Z workforce energized, while encouraging them to flourish alongside the company.
WHAT MAKES DARAZ A GREAT PLACE TO WORK?
"Daraz is a place where employees at every level maintain good communications with each other and with their superiors. It's a workplace centred on talent development and teambuilding, where unique capabilities of employees are recognized and empowered."
– DEX Ratnapura Hub Manager Zaky Nifraz
"The level of trust that employees share with each other as well as their superiors, and the pride that could be associated with the company name Daraz makes it a great workplace. I feel that my contribution at Daraz is truly valued and rewarded. The work we engage in, is not repetitive and is challenging, and the kind of work we do helps keep the energy levels high throughout."
– L&D Assistant – HR Hansani Hettige
"Daraz operates with the purpose of uplifting communities through the power of e-commerce, and I am glad to be a part of this purposeful journey filled with challenges and opportunities. At Daraz, the entire organization cares about their shared purpose and vision, while the management team has a clear view of how to run a smooth workflow even with the ongoing challenges in the environment. All the employees are equally valued, and they care for each other, catering to the clients with the maximum amount of help and guidance. Daraz is a great place to work because of the organization's friendly, flexible, and rewarding culture that benefits all employees."
– Manager of Financial Planning and Analysis Thilina Abeysinghe
"I started my career as a DFLP in Daraz in 2019. The company has been welcoming since day one with its easy-to-fit-in culture. My job has always kept me on my toes with its fast-paced, challenging work environment. Daraz, which had a smaller footprint back then, grew through the years to emerge as the market leader of e-commerce, and it has a culture which promotes learning, self-actualization, and confidence within its employees. With its commitment to uphold the credibility, respect shown to stakeholders, valuing fairness in all aspects, cultivating camaraderie, and helping employees take pride in their profession, Daraz in its essence is a true 'great place to work'."
– Operations Performance Manager Salinda Samarakoon
"Challenges and change are inevitable at Daraz. However, working together with our talented, energetic teams and amazing colleagues makes anything possible. I have been at Daraz for more than five years now, and it has been a great journey throughout. Daraz has offered me a steep learning curve and continuous opportunities for growth. I'm more than happy to say that Daraz is a great place to work!"
– Talent and Development Manager Dilshani Ranasooriya
"The standout of working at Daraz is its people. The collective atmosphere and attitudes lend itself to each individual's personal and professional growth. The HR policies, activities, camaraderie, and overall environment makes working here fun and keeps us motivated."
– Daraz Cares and Social Impact Team Lead Cassandra Van-Heer
"Daraz is a learning playground that brings together different personae from different walks of life, each working towards one goal. As Sri Lanka's leading e-commerce platform, we are constantly faced with new challenges, but with a culture that promotes learning and self-development, we stay motivated to face each day with positivity. As an organization that stands for uplifting communities while equally appreciating its employees, I'm happy to be a part of Daraz, which is truly a great place to work!"
– Senior Marketing Executive Amaani Inthikab