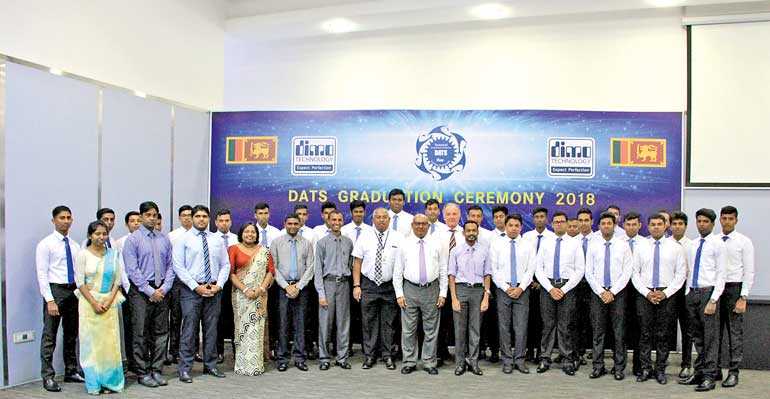 The 27th graduation ceremony of the DIMO Academy for Technical Skills (DATS), was held recently at the auditorium of the company's state-of-the-art Mercedes Benz centre; DIMO 800. The occasion was graced by DIMO Chairman and Managing Director Ranjith Pandithage, DIMO Group CEO Gahanath Pandithage, DIMO Directors, management, parents, as well as DATS staff participated at the event.

26 students from DATS institutes in Colombo and Jaffna graduated as Automobile Mechatronics Technicians. Both institutions in Colombo and Jaffna are certified by the Tertiary and Vocational Education Commission (TVEC) and follow an up to date student centred self-learning concept introduced by Daimler AG. DATS was recently accredited by the German Chamber of Commerce as category "A" to offer an internationally recognised qualification in Automobile Mechatronics, an industry first in the region.

DIMO Chairman and Managing Director Ranjith Pandithage said, "Vocational training plays a pivotal factor in developing our country's economy. It is important to empower Sri Lankan youth with the correct skill set for them to be competitive in the job market. DIMO has always recognised the need of producing quality technicians to the industry. DATS was established to address this need."

Established in 1990, DATS, in co-operation with Daimler AG has provided high quality vocational training to the nation's youth. Since its inception DATS has provided training free of charge, an unprecedented investment by a private enterprise in Sri Lanka. Graduates from DATS gets an opportunity to join the leading automobile engineering company DIMO.

DATS is the only institute offering Automobile Mechatronics in Sri Lanka. Students will be able to not only follow courses in Mechanical, Electrical, Electronic but also IT aspects of a modern automobile as a single discipline. This enables graduates to embrace the fast-evolving technology in modern automobiles.

A stringent selection process including entrance examination, assessments and one on one interviews are carried out to select the most competent candidates to follow this demanding course.

The training programs are of the highest calibre conducted in a fully-equipped, state-of-the-art training academy located in Weliweriya. The programs are conducted in conjunction with Daimler AG of Germany, the Principal of Mercedes-Benz.