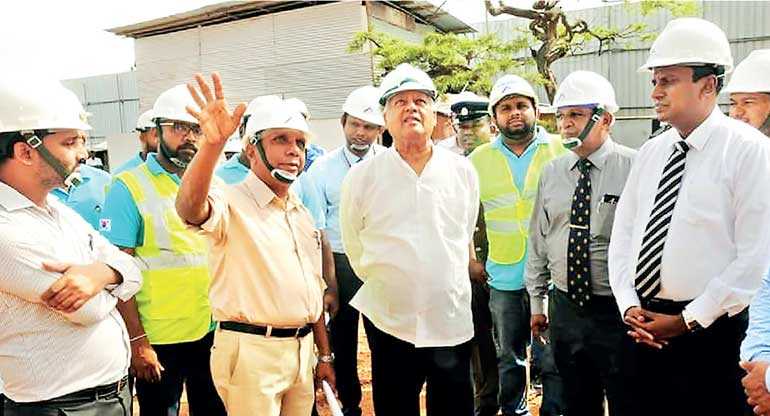 Minister of Skills Development and Vocational Training Dr. Sarath Amunugama on a site inspection visit at the Colombo VTC in Orugodawatte
The construction of Colombo Vocational Training Centre (VTC) and upgrading of Gampaha Technical College (TC) project financed by the Korea Eximbank is gradually gearing towards project completion in December this year. Minister of Skills Development and Vocational Training Dr. Sarath Amunugama was on a site inspection tour together with the Project Director at Colombo VTC which is under construction by Samhee Construction and Engineering in Orugodawatta on 9 July. Korea Eximbank has been financing for this project $ 26 million at 0.15% interest rate and 40 year repayment period including 10 year grace period.
After completion, Colombo VTC will conduct National Vocational Qualification (NVQ) courses on subjects such as robotics, electrics and electronics, mechatronics, welding, automotive technology, refrigeration and air conditioning, pneumatics and hydraulics. The textbooks for these subjects are being developed with the experts dispatched from Korean universities such as Shinhan University and Hanbat University. In addition, capacity building programs for management staffs and teachers in these two institutes are being conducted in Korea covering all the above subject areas. The workshop equipment will also be supplied and installed to these two vocational institutions within this year as well.

At a point where Sri Lanka is marching towards upper-middle income country status, this project will certainly boost the supply of better jobs for the youth by creating a skilled labour force which is vital to driving the economic growth. Furthermore, this project will bridge the gap between the labour market demand and the labour supply thereby enabling production of more skilled labour for both local and international markets. In the long run, it will lead to providing decent and sustainable jobs required in an aspiring upper middle income economy.