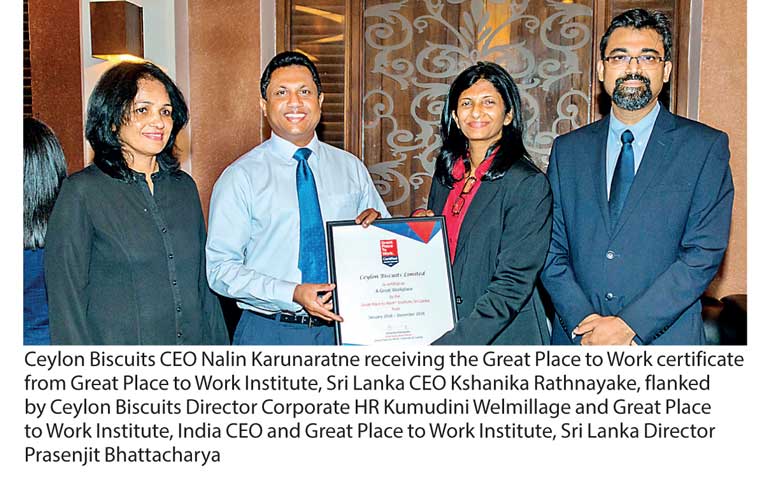 Ceylon Biscuits Ltd., one of the fastest growing and largest conglomerates in Sri Lanka, recently announced that it has received the prestigious Great Place to Work certification.

The globally acclaimed Great Place to Work certification was received by Chief Executive Officer Nalin Karunaratne and Director Corporate HR Kumudini Welmillage on behalf of CBL at a ceremony held in Colombo.

Great Place to Work Institute, India CEO and Great Place to Work Institute, Sri Lanka Director Prasenjit Bhattacharya as well as Great Place to Work Institute, Sri Lanka CEO Kshanika Ratnayake attended the occasion.

The comprehensive survey to discover the best companies to work for in Sri Lanka was implemented by the Great Place To Work Institute in collaboration with LMD and the Ceylon Chamber of Commerce. Response from more than 18,800 employees from over 100 companies representing over 16 industry sectors were subjected to an in-depth analysis. Internationally renowned Great Place to Work Institute is an authority focused on workplace cultures since 1980s, and conducts comprehensive surveys and evaluation processes to adjudge the world's finest workplace cultures.

Commenting on earning the prestigious Great Place to Work certification, Karunaratne stated: "I'm very proud and happy that CBL has won this recognition, after being evaluated on its strengths from various angles including work-life balance, as well as how CBL interacts and contributes to its community. This not only stands as a testimony to the sheer hard work and commitment of our staff, but also to the pleasant and harmonious working culture at CBL which has constantly motivated and encouraged their strong passion for achieving individual as well as company goals. This achievement exemplifies how our staff is truly welcomed and valued throughout their tenure. This year CBL is celebrating its 50th anniversary. As a company which cares deeply about its employees, customers as well as all its stakeholders, the five decades long journey has bestowed us with numerous awards and accolades both local and international, and most of all blessed with long serving employees who adore their workplace."

Expressing his views on the occasion, Bhattacharya noted: "Following our comprehensive study, CBL has scored outstandingly in the key categories viz. great challenges, great atmosphere, great rewards, great pride, great communication, and great bosses. Majority of employees responded stating they not only take pride in working at CBL but also admire their company's committed engagement and contribution towards the community. This in fact epitomises a company which passionately follows industry's best practices while constantly caring and prioritising the needs and wellbeing of its employees."

Being a multi-award winning biscuit manufacturer, CBL has clinched numerous awards and accolades to adorn its repertoire which includes local certifications such as SLS and ISO, in addition to international certifications such as FDA, and British Retail Consortium's 'AA' Certification. Furthermore, CBL has won the SLIM Brand Excellence award time and again, and has also been adjudged as Sri Lanka's number one FMCG Brand by Kantar World Panel in their recently published 'Brand Footprint Report'. While keeping abreast with industry's best practices and most modern technology, CBL also maintains a very conducive environment to nurture the personal and career growth of its employees within a pleasant working culture.

Acclaimed as the 'Gold Standard' for assessing and certifying great workplace cultures, the Great Place To Work partners with more than 8,000 organisations across the world. Through the partnership it provides constant support to create and sustain a High-Trust, High-Performance Culture, and leading the organisations to attain and sustain the Great Place to Work certification. The certified organisations will benefit from its vast data library accumulating best practices from the world over, in addition to the cultural research and consulting expertise of the Great Place To Work institute.