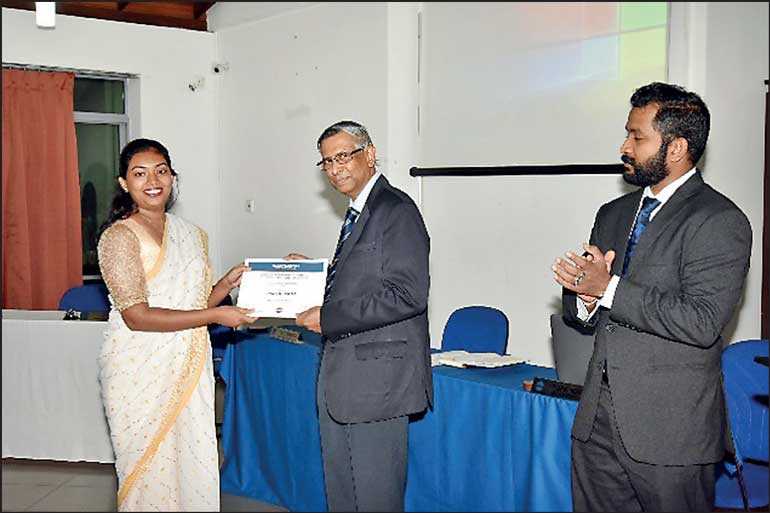 Dewni Senevirathne receiving the certificate from Prof. Lakshman R. Watawala and Achala Perera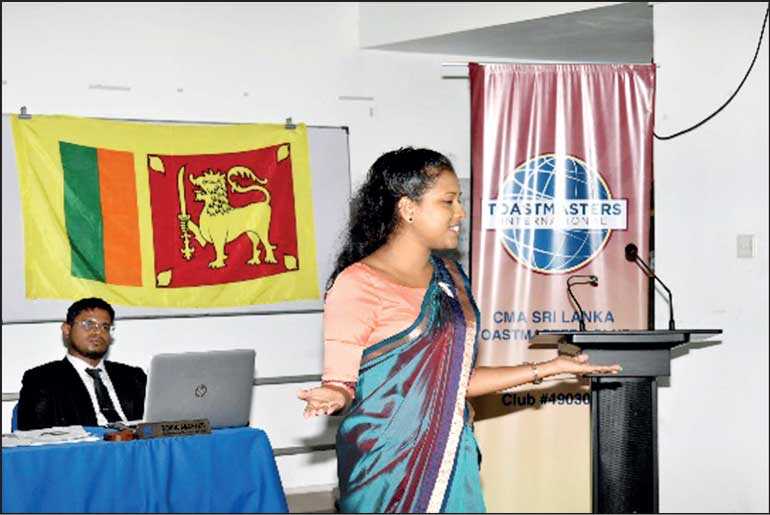 Jayani Rathnayake delivering Level Three speech

From left: (seated) Kithmal Sahabandu, Shanthi Maheswaran, Mayuran Ramanathan, Kosala Dissanayake, Dian Abeyewardene, Prof. Lakshman R. Watawala, Achala Perera, Jinandi Chandraratne, Ashini Imalka and Lahiru Silva, (standing) Speechcrafters Batch -15
---
The CMA Sri Lanka Toastmasters Club successfully conducted the 15th consecutive batch of Speechcrafters sponsored by the Institute of Certified Management Accountants of Sri Lanka (CMA). Twenty-one final year students attended the program over a period of 13 weeks. Since its inauguration in 2015, 15 Speechcraft programs have been conducted by CMA Sri Lanka, from which 435 students have benefited. Many participants have gained confidence and developed their communication skills, empowered themselves with soft skills and climbed the corporate ladder of their career path.

Prof. Lakshman R. Watawala, together with the Council Members of CMA have continued to display their commitment to enriching and enhancing the knowledge and soft skill development of its members, past finalists and final year students, enabling them to develop their leadership skills and achieve career progression in the corporate world.

This Speechcraft batch in particular showed great commitment, dedication and talent with a participant performing a prepared speech under Project Level 4 'Your Body Speaks' on the topic 'Time To Express' which was applauded by the others in the batch and also highly commended by the Toastmaster Facilitators, confirming that she was the first Speechcrafter to attempt Project Level 4 prepared speech since the inception of the program. At the final award ceremony she delivered an outstanding Project Level 3 speech titled 'Developing Personality'. Three other excellent speeches at Project Level 2 were also delivered, creating much interest and impressing the audience, together with table-topic speeches. The Speechcrafters were trained by Toastmaster Course Director Dian Abeyewardene

The final award ceremony of the 15th batch was successfully concluded at the CMA Auditorium on Saturday, 18 January. Chief Guest Prof. Lakshman R. Watawala expressed his congratulations to the participants for their amazing performance and stressed the importance of communication and IT skills which enable CMA Sri Lanka Professional Accountants to be successful team members and climb to the top of the corporate ladder as CFOs, CEOs, managing directors or chairpersons.

The certificates were presented by Prof. Lakshman R. Watawala, CMA Consultant Kosala Dissanayake, CMA Sri Lanka Toastmaster Club Past President Achala Perera and CMA Sri Lanka VP Education Mayuran Ramanathan.

The awards ceremony was conducted by the Toastmaster Course Director Dian Abeyewardene, followed by an entertainment item performed by the Batch 15.

The next batch of the Speechcraft program will commence on 15 February for members, past finalists and strategic and apex level students of the Institute of Certified Management Accountants, following the footsteps of other successful participant batches. All interested in participating are requested to contact the CMA office Ms. Shanthi on 0714 70 55 36 or email [email protected].