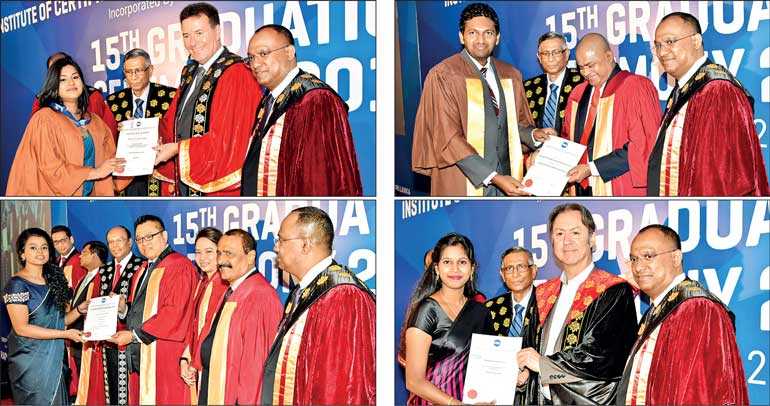 The Institute of Certified Management Accountants of Sri Lanka (CMA) held its 15th graduation ceremony under the distinguished patronage of the Australian High Commissioner in Sri Lanka Bryce Hutchesson on 11 December at Kingsbury Balmoral Ballroom.

The keynote speaker was Deakin University Australia Head of Accounting Prof. Peter Carey.

Leslie Leow – Regional Manager – MESA from CPA Australia representing the President and Chair Peter Wilson was the Guest of Honour and Ministry of Skills Development and Vocational Training Secretary Sunil Hettiarachchi was the Special Guest of Honour at the graduation ceremony.

At the Graduation Ceremony 2018, 128 CMA members were inducted into the Management Accounting Profession with the designation ACMA and ceremonially awarded membership certificates. In addition, 89 CMA Passed Finalists, 44 Prize winners, Strategic Professional Certificate, Advanced Diploma in Accounting and Business Studies, Diploma in Accounting and Business Studies and Certificate in Accounting Business Studies and Certified Hospitality Finance and Accounting students who had completed the different levels of CMA Examinations held in November 2017 and May 2018 received certificates and outstanding students were awarded prizes.

Bryce Hutchesson in his Chief Guest's address congratulated all new members and those qualifying at the CMA examinations and was pleased with the links established with the Australian CPA a leading professional accounting body in Australia and the much recognised Deakin University and the signing of MOUs with these bodies which were welcome developments.

He also recognised the key role played by Management Accountants both in Australia and Sri Lanka in Government and Private Sector in enabling good governance, focused expenditure and strategic decision making. He also distributed certificates and awards to members, passed finalists and prizes to out-standing students including the Prof. Lakshman R. Watawala Founder President Gold Medal Award to the most outstanding student at the Final Examinations.

Prof. Peter Carey, as the keynote speaker stated that they were happy to note that CMA Sri Lanka, as the national professional management accounting body in Sri Lanka, has made rapid progress during a short period of time and obtained international recognition with its membership of the International Federation of Accountants the global body for the accounting profession. Continuing he also stated that those who qualify as management accountants have many careers to choose from in addition to pure accounting and finance functions and was a great advantage for those qualifying and gave many examples of his colleagues doing extremely well in different careers.

Leslie Leow stated that it was noteworthy that both bodies were members of the International Federation of Accountants (IFAC) and the presence of CMA at the World Congress of Accountants of IFAC co-hosted by CPA Australia and CA Australia during which event the Member Pathway Agreement between CMA Sri Lanka and CPA Australia was signed which was indeed a memorable event. CPA Australia with the support of CMA Sri Lanka have arranged for the conduct of lectures as well as the examinations in Sri Lanka for CMA members who would now have a pathway to join one of the world's largest professional accounting bodies with a membership of 163,750.

The special guest of honour Sunil Hettiarachchi stated that CMA develops the skills of school leavers and graduates and played a major role in providing a job ready professional management accounting qualification to meet the needs of both the public and private sector.

CMA Sri Lanka President Prof. Lakshman R. Watawala spoke on the opportunities internationally for CMA members with recognition given by both CPA Australia and Deakin University. He also spoke on the responsibilities of professional accountants to maintain high standards of integrity, objectivity, professional behaviour and maintain professional competence by following continuing professional development programs which is mandatory. CMA members are also bound by a code of Ethics, Disciplinary code and corporate governance. The importance of Integrated Reporting was also highlighted.

The vote of thanks was delivered by the Vice President Hennayaka Bandara.