'Will there be a paradigm shift in corporate governance after COVID-19 pandemic?'
The Institute of Certified Management Accountants of Sri Lanka (CMA) Founder's Day Oration will be held on Wednesday, 17 June from 6-7:30 p.m. via Online Zoom Webinar. The Founder's Day Oration will be delivered by Assoc. Prof. Luckmika Perera, Director (Education) – Centre for Integrated Reporting, Faculty of Business and Law, Deakin University, Melbourne, Australia on 'Will there be a paradigm shift in corporate governance after COVID-19 pandemic?'.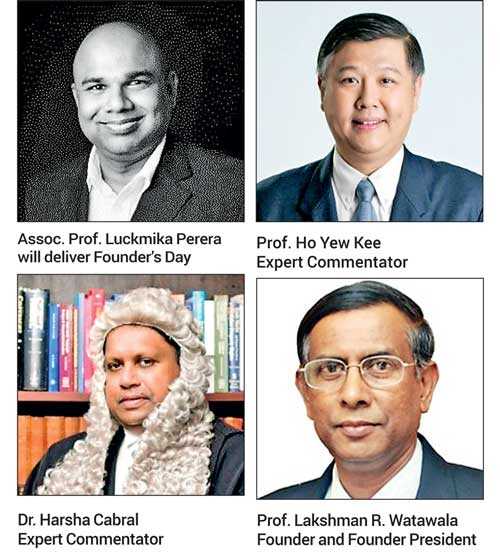 CMA – Sri Lanka Founder and Founder President Prof. Lakshman R. Watawala who set up the institute in 2009 will be honoured with the Founder's Day oration delivered by Assoc. Prof Luckmika Perera when CMA Sri Lanka are celebrating its 20th anniversary.

Two leading experts Dr. Harsha Cabral, President's Counsel with vast experience in the field of Company Law, Intellectual Property Law, Commercial Law, Securities Laws, International Trade Law and Commercial Arbitration, Company Chairman and Director and Prof. Ho Yew Kee, Associate Provost (Skills Future and Staff Development) at Singapore Institute of Technology, Former Prof. in Accounting National University Singapore and Advisory Council Member CMA Sri Lanka will provide their expert comments at the end of the oration.

CMA Sri Lanka celebrates the 20th anniversary since its establishment in the year 1999 and launched on 3 June 2000 with the technical support of CMA Canada (now CPA Canada) and the financial assistance of the Canadian International Development Agency (CIDA). The Institute of Certified Management Accountants (CMA) of Sri Lanka was thereafter incorporated in April 2009 as the National Professional Management Accounting Institution in Sri Lanka by Act of Parliament No. 23 of 2009 under the Ministry of Internal Trade and Cooperatives and then Industry and Commerce and now under Ministry of Finance.

Today CMA Headquarters is at its own premises 29/24, Visaka Private Road, Colombo 4. CMA is a Member of the International Federation of Accountants (IFAC). IFAC is the global body for the accountancy profession dedicated to serving the public interest by strengthening the profession and contributing to the development of strong international economies. IFAC is comprised of over 175 members and associates and associated in 130 countries and jurisdictions, representing app. 3.0 million accountants in public practice, industry and commerce, government service and education.

CMA is also a member of the South Asian Federation of Accountants (SAFA) and joins the fraternity of Professional Accounting bodies in India, Pakistan, Bangladesh, Sri Lanka and Nepal and a Member of the Confederation of Asian and Pacific Accountants (CAPA) the accounting body for the Asian and Pacific region. CMA is a member of the Organisation of Professional Associations of Sri Lanka (OPA) the apex body for professional organisations in Sri Lanka.

CMA is a professional qualification specialising in Management Accounting, Financial Accounting and Finance and Strategic Business Management to develop the professional competence of aspiring management accountants. The CMA Professional Programme 2018 has been prepared to be in compliance with the International Education Standards (IES) of IFAC. Prospective students earn their designation through a highly specialised accreditation process that includes a four stage examination structure plus the Apex Level which consist of an Integrative Case Study, Speech craft Program, Computer Based Accounting and a three-year practical training requirement to obtain membership.

Those who qualify at the CMA examinations with three years of approved practical experience could obtain their membership and will be able to use the designations ACMA for Associate Certified Management Accountant and FCMA for Fellow Certified Management Accountant.

Recently CMA Sri Lanka launched the intermediate qualification to those who have received the Diploma in Accounting and Business Studies with two years of working experience to grant the Certified Accounting and Business Management qualification with the designation CABM. Those who have received the Diploma and Intermediate Certificates under the old syllabi are also entitled to obtain the new designation.

CMA has taken action to overcome the challenges faced during the COVID-19 pandemic and the forced 'lockdown' by launching the 'CMA Sri Lanka Virtual Learning', the online learning platform on 20 April 2020. The main objective of this initiative is to assist students to continue their studies without interruptions during the lock-down period and face the upcoming June exams with confidence. CMA Sri Lanka Virtual Learning platform provides different study aids/materials to facilitate students (Foundation, Operational, Managerial, Strategic and Apex Levels) to carry on their study program with convenience and to become a learner every day by offering discussion of past papers, discussion of selected topics, delivery of online lectures, and provision of study materials.

CMA Speech Craft program of Batch 16 and Batch 17 suffered a 'shutdown' of the program after sessions commenced in February and March 2020. CMA was able to conduct very effectively the Speech Craft Program online in the Zoom Room from 4 April completing meeting sessions successfully including Keynote presentations, students Project Speeches and all other segments of learning in the speech craft module. This made opportunity for students from overseas mainly from Dubai, Maldives and Qatar to attend the program. Currently Batch 18 makes history by commencing the program online from Session 1 scheduled to end on 5 July.

The students who were following Information Technology Applications (206 – ITA) were assisted by conducting online zoom practical sessions and post guidance are provided by lecturers to practice past papers.

As the second step of this project, CMA Sri Lanka is all set to launch a full online lecture series on all the subjects at the Foundation Level leading to the Certificate in Accounting and Business which will lead to the CMA Professional Programme for GCE A/L qualified students as well as those in employment with two years' experience in accounting or business and the course will commence in mid-June. Those following the program can sit the Foundation Level Computer Based Examination conducted with Pearson VUE USA in September. Registrations are now open and the lectures would commence in mid-June. Those interested to register for online lectures please contact Jinandi on cmaedumgr@gmail.com.

For those who are members either Associates or Fellows, Continuing Professional Development (CPD) is mandatory and annually courses are conducted to update their knowledge and skills in keeping with IFAC guidelines. These mandatory courses includes the Annual Conference, Budget Seminar, Founders Day Oration and other seminars and programs conducted by CMA to collect a minimum of 20 CPD hours per annum. During the lockdown CMA conducted a webinar on 'COVID-19 Pandemic 'Challenge of Working from Home' and 'Finance and Management Accounting Professionals Navigating COVID-19 Crises' to keep update on world health crises.

The COVID-19 pandemic has changed the normalcy of our lifestyles radically but the digital focus of the students, the clarity of the process of learning is a new experience that would be a great example of the saying "Every cloud has a silver lining".

CMA Sri Lanka is committed to provide maximum learning and opportunities to students in their journey as professionals equipping CMA Members with essential soft-skills, communication and leadership attributes.

Those who are interested to attend the CMA Founder's Day Oration could please contact

Shanthi on 071-4705536 or e-mail: registrations@cma-srilanka.org.