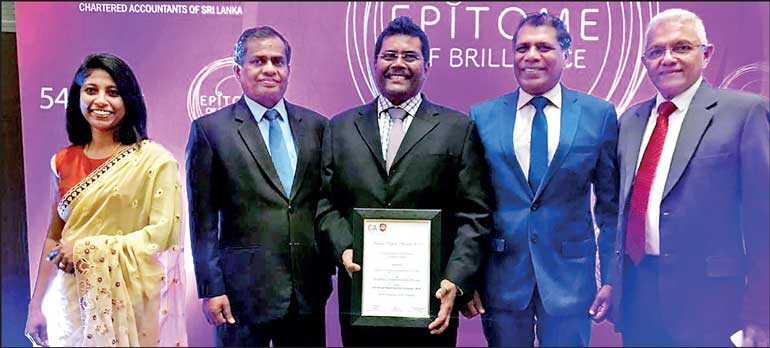 From left: CIPM Sri Lanka Senior Manager Finance Wathsala Nadeeshani, CIPM Sri Lanka CEO P.G. Tennakoon, CIPM Sri Lanka President Dhammika Fernando, CIPM Sri Lanka Hony. Secretary Ken Vijayakumar, CIPM Sri Lanka Vice President Sarath Jayasinghe
---
for the sixth consecutive year at the recently concluded 54th CA Sri Lanka Annual Report Awards Ceremony held at the Shangri-La Hotel in Colombo. This prestigious award recognises and honours CIPM Sri Lanka's continuous and unwavering commitment to the highest standards of corporate governance.
The CA Sri Lanka Annual Report Competition 2018 revolved around the theme 'Epitome of Brilliance' to reward organisations that produce the most cohesive, clear and customised annual reports that best reflects an entity's operations, whilst going beyond their statutory boundaries of reporting while promoting transparency, accountability and good governance.

"CIPM Sri Lanka is a very active professional body with a membership of over 1,200 hosting multiple mega events at the national level while interacting with the public through our Business School, and our Board level affiliations with leading like-minded professional bodies in the region such as Asia Pacific Federation of Human Resource Management (APFHRM), World Federation of People Management Associations (WFPMA) and strategic alliances with leading universities such as University of Salford Manchester UK, it is our unwavering duty and commitment to provide this high level of governance and transparency to continuously build trust and confidence in achieving our strategic plans," said CIPM Sri Lanka President Dhammika Fernando.

"We are delighted to be bestowed with this prestigious compliance award six years in a row by CA Sri Lanka signifying our continuous commitment to ensure accurate reporting, transparency and governance in all of our operations going beyond statutory requirements. I take this opportunity to thank my team in winning this coveted Award," said CIPM Sri Lanka Chief Executive Officer P.G. Tennakoon.

CIPM was founded in 1959 and was subsequently incorporated by an Act of Parliament in 1976. CIPM, being a professional institute is also a constituent member of the Organization of Professional Associations (OPA) Sri Lanka. It was elevated to Chartered Status by the Parliament of Sri Lanka on 28 September by amending the original act of establishment.