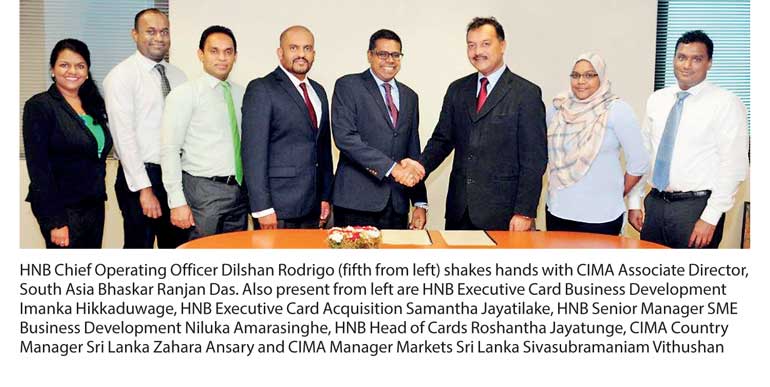 Supporting essential professional development for students and members, CIMA Sri Lanka has partnered with Hatton National Bank PLC to offer an easy payment plan program. The agreement signed in October offers preferential financial packages which allow HNB credit card holders to pay their CIMA fees in 12 equal monthly instalments.

This arrangement will make the world-recognised CIMA qualification more accessible to students in Sri Lanka, and encourage members to maintain the continuing professional development that is so important to those seeking employment or career progression in today's marketplace.

CIMA Sri Lanka Country Manager Zahara Ansary pointed out the added benefit of the agreement: "It is a great advantage for our students and members that they can spread the cost of the subs or exams over 12 months, and unlike traditional easy payment schemes, there is absolutely no handling fee or interest involved, providing a ready relief."

By easing the financial burden on students and members, CIMA and HNB are jointly empowering them to focus on what is important – gaining skills that will help them prosper and make valuable contributions to the professional community and the country.

HNB Chief Operating Officer Dilshan Rodrigo, commenting on HNB's role enabling this, said: "We are delighted to partner with the CIMA community in Sri Lanka - students, members and tuition providers with a unique bank offering that will truly add value in terms of affordability, convenience and quality of life."

CIMA plans to continue to offer value to the members and students who are part of their vibrant community in Sri Lanka, enriching the management accounting profession and the business ecosystem. For those who would like to join the largest global body of management accountants and enhance their employability, registrations are now open for 2018. For more details please visit www.cimaglobal.com/Our-locations/SriLanka or contact CIMA Sri Lanka on 0112503880.