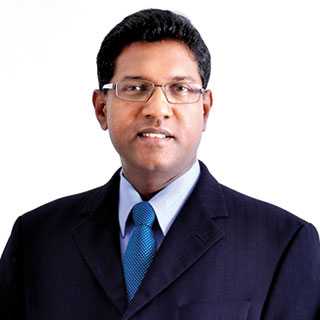 Aruna Alwis
---
CFA Society Sri Lanka (CFASL) has announced the appointment of Aruna Alwis as its new Chief Executive Officer to help drive its vision forward.

Prior to joining CFASL, Alwis served as Chief Executive Officer/Secretary of The Institute of Chartered Accountants of Sri Lanka, Director Operations of Chartered Institute of Management Accountants Sri Lanka, and CEO of the Federation of Information Technology Industry Sri Lanka. Aruna Alwis received his executive education from INSEAD, IIM Bangalore, Open University UK, and DCAAP Philippines. He is a professional member of the British Computer Society, UK and holds a Diploma in Business Administration from the University of Colombo and an MBA from Warnbourgh University, UK.

CFA Institute has earned an important reputation as a professional organisation providing financial education to investment professionals.

CFASL is set to play a more influential role locally under his executive leadership in the coming months, with a series of new programs helping to further strengthen the finance and investment industry. It is believed that these initiatives will help reinforce the industry locally and enhance its regional and international links further.

The Capital Market Awards, Research Challenge competition, Women in Finance initiatives, Candidates council events and 20th Anniversary Celebrations are some of the league events being organised by CFASL to support the enhancement of skills and competencies of the country's finance and investment professionals and the industry as a whole.

CFASL President Dinesh Warusavitharana said: "The appointment of the new CEO marks an exciting time for growth and development as CFASL celebrates its 20th Anniversary." "Aruna is the right leader for CFASL due to his extensive corporate relationships spanning finance, accounting, ICT, education, media, and the Government. This ties together with his wide international exposure and proven business development skills. We have no doubt that his expertise will help CFASL strengthen its position both locally and internationally, and develop strategic alliances, as well as foster the finance and investment industry in Sri Lanka," Warusavitharana added.

CFA Institute Senior Director of Society Relations Asia Pacific Brenda Hou said: "This senior executive appointment marks an important milestone in CFA Society Sri Lanka. Our CFA Societies primarily operate as volunteer-run, not-for-profit organisations. This appointment allows CFA Society Sri Lanka to expand its engagement with members, candidates and the industry more broadly, to fulfil our shared mission of promoting the highest standards of ethics, education and professional excellence across the financial services industry."

Aruna Alwis said he is excited to join CFASL, which, he said, comes at a very critical time, with the Investment industry rooting for development in leaps and bounds. "I am looking forward to working with all the stakeholders to develop a portfolio of services that attracts, retains and involves members at all stages and supports the finance and investment, and business community, including the Government," Alwis added.

CFA Institute is the global association of investment professionals that sets the standard for professional excellence and credentials. The organisation is a champion of ethical behaviour in investment markets and a respected source of knowledge in the global financial community. Our aim is to create an environment where investors' interests come first, markets function at their best, and economies grow. There are more than 170,000 CFA charter holders worldwide in 164 markets. CFA Institute has nine offices worldwide and there are 161 local member societies.

Founded in 2000, CFA Society of Sri Lanka is a not-for-profit organisation supporting the professional development and advancement of CFA charter holders and candidates in Sri Lanka. Our membership of over 240 members consists of CEOs, CFOs, portfolio managers, equity analysts, banking professionals, investment advisors and other senior-ranking financial practitioners and over 500 candidates, mainly in the financial sector.