Members of the Association of Chartered Accountants of Nepal (ACAN) at the IFRS training program in Colombo organised by CA Sri Lanka. Also in the picture are ACAN President Hari Kumar Silwal, CA Sri Lanka President Jagath Perera, CA Sri Lanka Vice President Manil Jayesinghe, CA Sri Lanka Immediate Past President Lasantha Wickremasinghe, CA Sri Lanka CEO Aruna Alwis and CA Sri Lanka resource personnel Tishan Subasinghe, Shakila Perera and Rajith Perera
In its capacity as an influential accounting body, CA Sri Lanka, continued to take the lead in educating member bodies in the South Asian region on the implementation of the International Financial Reporting Standards (IFRS).

In this endeavour, CA Sri Lanka recently organised an IFRS training program for members of the Association of Chartered Accountants of Nepal (ACAN), where issues pertaining to the implementation of the international standards was discussed at length. A total of 32 members from ACAN attended the training program held in Colombo.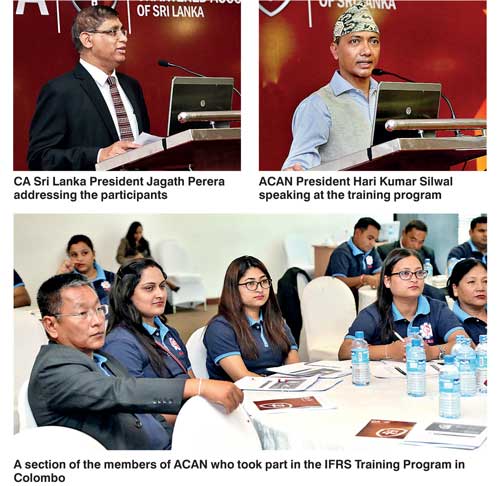 Speaking at the event, CA Sri Lanka President Jagath Perera said that as a professional body that adopted IFRS way back in 2012, CA Sri Lanka had an in depth understanding on the difficulties and confusion a professional body may have when moving forward in implementing the international standards.

"But, we have our experience and our resource persons who will guide you in this process and help you in adopting the IFRS. It is not impossible, but there are issues you will encounter as you move on and so we have identified the best resources to help you in the adoption process," he told the ACAN members present at the training.

Perera highlighted how CA Sri Lanka has played an influential role in discharging its responsibility towards developing the accounting profession, both locally and globally. "We are not just a member of IFAC, SAFA or CAPA, but we have made vast amounts of contributions to these organisations and to the global standards as well," he said.

He also recalled how CA Sri Lanka had assisted both Bhutan and Maldives in helping develop their accounting profession by providing guidance and training on various areas including on accounting and auditing standards.

Perera pointed out that the accounting profession is changing and the challenges have become far more complex in comparison to a few years back. "Today digitisation is taking over everything and this is no exception to the accounting profession. We can only meet these challenges by changing our skillsets. Changing our skillset is the game changer and CA Sri Lanka will take the lead in this over the next couple of years," he added.

Speaking at the event, ACAN President Hari Kumar Silwal extended his appreciation to CA Sri Lanka for the support extended to his country in helping them adopt and implement IFRS. "We admire and thank CA Sri Lanka for this great gesture and for the support in helping us in implementing IFRS. CA Sri Lanka has become like our big brother and we have a lot to learn from them and this is an important opportunity for us," he said.

Resource contributions for the IFRS training programme in Colombo were provided by CA Sri Lanka members Tishan Subasinghe, Shakila Perera and Rajith Perera.

As a follow up session, CA Sri Lanka will also conduct a three-day Application Level Training Programme on IFRSs in Nepal in February, with Nishan Fernando as the resource person.