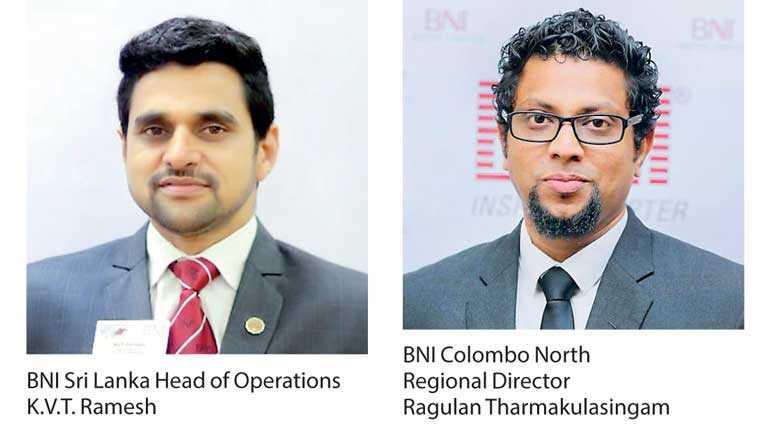 Business Network International (BNI), the world's largest referral organisation recently launched its 4th Chapter in Sri Lanka. Known as 'BNI Inspire', this chapter was launched as the first platinum chapter with an impressive 53 members at its first meeting.

The launch also saw over 100 visitors, 158 referrals and over Rs. 5 million totally in closed business on its first day. The 53 members of BNI Inspire are made up of well-performing decision makers from different companies in various industries in Sri Lanka.

BNI Sri Lanka Head of Operations K.V.T. Ramesh shared these views at the launch, "We are extremely excited to have been able to grow our membership at BNI Sri Lanka. We aim to reach 1010 members by the end of the year 2020 by gathering business professionals of different industries, from across the country. We are enthusiastic and ready to take our member businesses to a global arena through the BNI platform."

BNI Colombo North Regional Director Ragulan Tharmakulasingam said, "We are humbled by the increase in interest and confidence in what we do at BNI. We have seen a growth of almost 300% in the last year alone at BNI Sri Lanka. We also take great pride in being able to provide the necessary platform for Sri Lankan members to expand their businesses through our global network at BNI. BNI Inspire has set its mind to achieve a target of Rs. 300 million in revenue during the course of the next six months."

The BNI Inspire chapter will be led by President Glenn Lord (Director – Business Machines Co. Ltd.), Vice President Oshada Senanayake (Director, Enfarserv) and Secretary/Treasurer Mahesha Sathkumara (Director – Glimmer). The chapter will be guided by BNI Inspire Director Consultant Mathushangar Yogendran.Conceptualised and founded in California in 1984 by a group of friends, BNI has seen exponential growth over the last three decades globally. Functioning as the world's largest and most successful referral organisation, BNI currently has 8458 chapters in operation in 73 countries with over 235,956 members. Members last year passed 10.1 million referrals and this translated into over $ 14.4 billion in business done among members.

The BNI network is built on a set of guiding principles which form the foundation on which members interact, conduct themselves and fulfil their goals. BNI aims to help members increase their business output through a structured, positive and professional referral marketing program that enables them to develop long-term, meaningful relationships with like-minded and valuable business professionals. BNI essentially helps build a strong network that fuels professional growth through scheduled regular meetings and resources exclusive to its members.

BNI Inspire meets every Wednesday at 7:30 a.m. at the Galadari Hotel, in Colombo. For more information please contact Shanil Perera 0722420420, Oshada 0773742328, Glenn 0777372382.