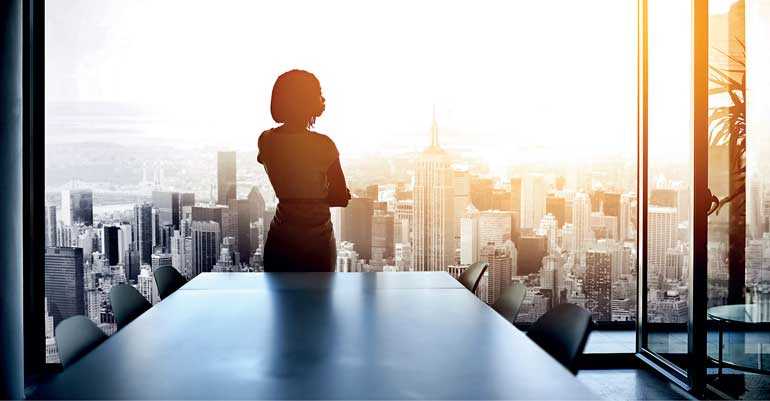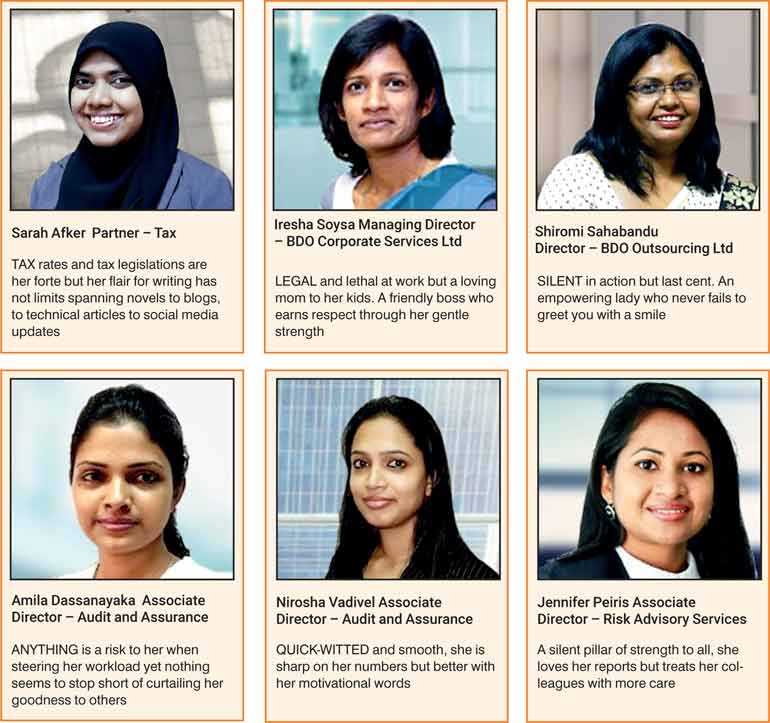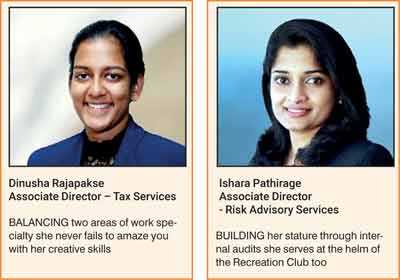 This has been a perennial question and I believe we have still not found a satisfactory answer. What is holding women back? It has been more than 40 years since the American Management Consultant Marilyn Loden coined the phrase 'glass ceiling' to describe the intangible barrier than prevents women from rising to the top of their profession. Despite many initiatives to get more women to senior executive and board positions over the past four decades, progress remains slow.

There are cracks emerging in the glass ceiling even in Sri Lanka, where more women are taking up their role as board directors and other senior management positions. A research conducted in 2019 by IFC and CSE found that about 8.5% of listed company board directors in Sri Lanka are women. Fresh commitments to diversity at the top is an important catalyst for revitalised conversations about harnessing the economic potential in the country.

The business case for diversity in leadership has been well documented. The 2018 'Delivering through Diversity' report from McKinsey & Company notes that companies in the top quartile on executive-level gender diversity worldwide have a 21% likelihood of outperforming their fourth quartile industry peers on earnings before interest and tax. McKinsey has also found that $ 12 trillion could be added to global GDP by 2025 by advancing gender equality.

Speaking at a World Economic Forum, Jack Ma Co-Founder of Alibaba Group, said women are the secret of the business's success. "If you want your company to be successful, if you want your company to operate with wisdom, with care, then women are the best… part of the 'secret sauce' of our success is because we have so many women colleagues."

Despite the evidence what is less encouraging is the glacial pace of change in the workplace. It begs the question: what do we need to do to change the situation?
Equal opportunities

Gender equality means giving more people access to what they need to be successful. Discrimination remains one of the biggest barriers to women moving to leadership roles. The restrictions on women travelling or working late hours or taking time off for family commitments are all taken as an excuse to discriminate women in being given opportunities to grow and develop in their careers.

Professor Koh Tai Ann, Senior Associate at the Centre for Liberal Arts and Social Sciences at Nanyang Technological University and a member of the Singapore committee for UN Women, believes that many efforts to promote women in business will remain largely ineffective until the broader issue of gender discrimination is tackled. "The basic issue is that we must get rid of gender discrimination at all levels," she says". "[Discrimination] begins in the home and elsewhere in society and must be rooted out there. If not, there will still be no gender diversity at those high [organisational] levels."
How men can be part of the solution

The efforts to promote gender equality should engage men and it should be done in partnership with all the stakeholders, including men. This partnership model will see both men and women at all levels in the organisation working together for change. The organisation needs to rethink their attitude towards work and the responsibilities of caregivers. Most organisation are largely working on a system built on fixed assumption about men and women. These need to fundamentally change and we need to be more critical of the stereotypes and assumptions that we make about gender. This shift in attitudes should be embraced both by men and women in order to make an effective change. The solution cannot be one arrived at in isolation but rather must take into consideration the entire eco system in which the employees are working in.
Quotas for women

The qualities required to succeed at senior executive levels are gender neutral, but there are inequalities in the system itself. We should focus on how we can remove the prejudices that prevent women from getting into positions of power, rather than trying to force women in to these positions, to ensure that a statutory/recommended quota has been met. A quota may have a demotivating psychological impact for women as they will think they are not getting the position on merit and the men will think that they are being grossly disadvantaged.

Representation of women on boards and in senior leadership roles must be supported by an overall shift in culture. However, if the progress remains slow, on women taking up these positions, the best possible option would be to introduce specified quotas for women.

Research shows that it is more effective to include gender-based targets to managerial/board KPIs in achieving gender equality. Targets have a sense of reward attached to it. Where a company makes a commitment to have a specified percentage of leadership roles held by women, and each division is made accountable for their portion in achieving the target, this can be achieved. For example, Norway has adopted the 40:40:20 mandatory target which means 40% men, 40% women and 20% either. Targets are more effective in reshaping the workplace culture because it is linked to performance.
Seeking women

Sometimes, people may say, "Oh, we just can't find any women interested in taking up these roles". There needs to be greater transparency around board nominations and appointments. There is an unconscious bias where too many board members and executives are not looking beyond their male-dominated social and business networks when looking for board members. The Colombo Stock Exchange has taken the initiative to publish the 'Women on Boards of Companies listed on the Colombo Stock Exchange' which is updated annually listing out the female board members. This provides visibility for female business leaders who are already providing leadership to the listed companies of our country. However, making it to the list as a first timer may be a challenge.

Women on Boards is a platform that is available in Australia which provides information for women seeking board positions and for corporates seeking female directors. This platform boasts a sophisticated algorithm for boardroom vacancies and matching the candidates with jobs. We need a similar database for women seeking positions in top managerial positions in Sri Lanka. Research points to the fact that once a board consists of more than one-third women, the thinking of a company changes.
What we do at BDO

At BDO, we share one common purpose, our WHY: People helping people achieve their dreams. Embracing diversity and equality will help our people maximise their potential, ignite their passion and achieve their goals. This has become an integral part in creating a gender equal environment at BDO globally.

We feel that equality is not a women's issue, it is a business issue. It is something essential for economies and communities to thrive. Belinda Thompson is the Global Head of IT for BDO. When asked how she feels as a woman in a predominantly male environment, she responds, "Passion for what I am doing at every step is what underpins my career. If you don't enjoy that you do, the chances are that you aren't going to want to keep at it for very long! For me, the enjoyment comes from empowering others around me and connecting an organisation's purpose to my personal one is critical. Something that cannot be underestimated in the progression of a leader – regardless of gender – is the support of those around them." This clearly indicates that a supportive culture and an enabling environment as clearly helped her reach where she is today.

When asked whether she has faced any blockers being a female during her career, she says "Everyone, regardless, of their age, gender, position or experience, comes up against blockers during their career. They are an inevitable part of progression, so it's how you face them that determines your success over the long term. I've learnt to frame such situations as opportunities, because they present a chance to reassess my frame of reference for success. For example, being the only woman sitting at a table could be viewed as a blocker, but what it does is create a huge opportunity and responsibility for me to influence the conversation, not be influenced by it. Confidence also plays a key role in tackling blockers. Knowing when and how to 'back yourself' can be the difference between success and failure."

Globally, there is a growing momentum to increase the number of women in senior roles. This trend is reflected within BDO, with our own statistics showing that overall, women already occupy more than 50% of our workforce, and across all regions on average 50% of our client facing staff are females. However, the statistics also show that our female population still finds it hard to climb the career ladder. On average 20% of our female professionals have achieved Partner status. We can conclude that there is still a lot of work to be done.

At BDO Sri Lanka-Maldives, the role of the woman is celebrated in every sense throughout the year. The Managing Partner, Sujeewa Rajapakse has always been a true advocate of equality and a firm believer in the pursuit of gender diversity. In reply to his view about the prominence given to gender equality, Rajapakse stated, "When one values diversity, one encourages the exchange of different and contrasting ideas and this in turn delivers fresh business perspectives and innovative solutions. Driving equality to bring men and women together, each with their own different approaches and leadership style, undoubtedly creates a stronger business model. This is built on the foundation where the woman feels secure for the recognition given and the man identifies the woman as an equal. This healthy rapport creates an unparalleled synergy which ultimately benefits the organisation as well as the individuals. It is in our best interests to find, develop and nurture the very best talent, and as such we must actively support all our people (both men and women) to pursue their dreams. Building a vibrant and diverse workforce signals an attractive working environment for new talent and a thriving organisation where all our colleagues have the same opportunities to grow with us."

BDO Deputy Managing Partner Ashane Jayasekera had this to say: "We have managed to strike a balance where the total staff strength is represented by 49% females and 51% males. Our Firm now recognises the economic and social benefits of increasing diversity. There are now more female Partners and Managing Directors and business leaders within BDO and we are actively striving to elevate more women to senior roles. Much work is still to be done, but there is no doubt that this trend will continue."

Adding on to their comments, BDO Partners Tax Partner Sarah Afker stated, "At BDO, I do not see any gender bias and no hindrance from my superiors (who are mostly male) to pursue a further career, quite the contrary. They are supportive and push me to become better in every aspect. This is applied across the board and all staff starting from Audit Associates are empowered and given equal opportunities. Often, we, as women, have our own mental blockage when it comes to leadership positions. Maybe it is due to the pressures that society puts on us or our own worries that we might be taking too much on our shoulders. What I do know, is that I started thinking differently and always believed that anything was possible – and it has been proven right."

The BDO Sri Lanka training culture also compliments equal opportunities where special grooming sessions, diet specific awareness programmes and leadership training focusing on work-life balance has been conducted over the past few quarters. Equal opportunities for extra-curricular activities as well as participation at training has always been evident at BDO. Attention is given by the administration to ensure equal facilities are provided for females employees.
In summary

Having gender equality at the top benefits everyone:
It's good for both men and women to shift stereotypical ideas around gender roles —just as the status quo is holding women back from leadership roles, it is holding men back from embracing caretaking and support roles.
It's good for families, whether they rely on women as the sole breadwinners or share a two-earner income.
It's good for business to draw on the creativity of a diverse staff and recognise the purchasing power of women.
It's good for the country, because the more diverse the pool, the more talented our leaders will be.