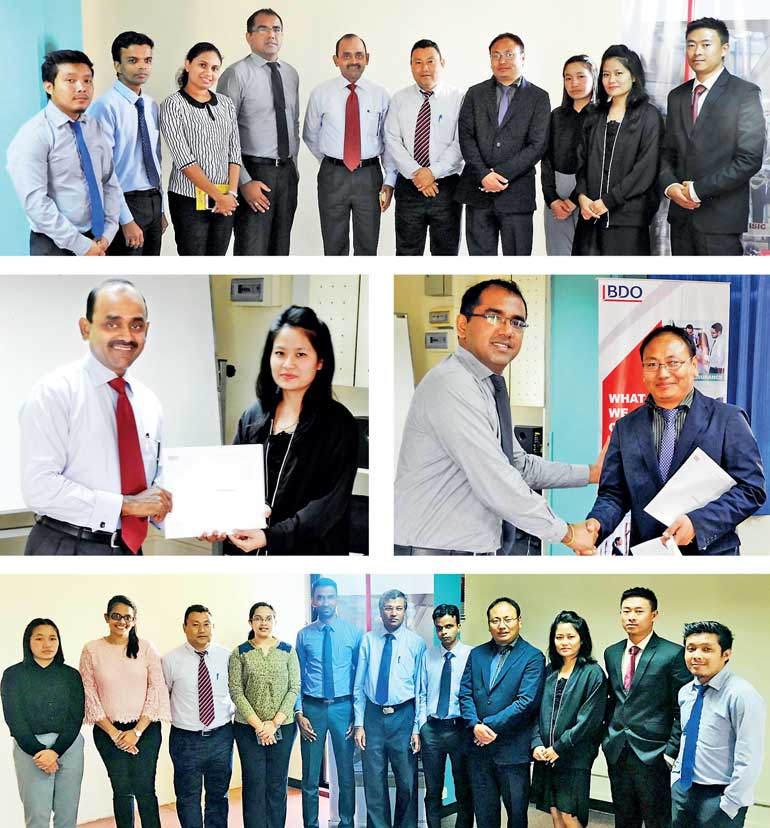 BDO Sri Lanka conducted a series of training sessions for government regulators from the Royal Monetary Authority of Bhutan (RMA) which is the main regulatory body for financial institutions in Bhutan.

Until 2012, Bhutan did not have authoritative accounting standards and the entities were following undefined generally accepted accounting principles. As the country diversified its economic activities with increasing global dimension, pressures were built gradually and systematically from within and outside the country to ensure high quality financial reporting. As a result of this the Accounting and Auditing Standards Board of Bhutan and the Royal Government has made a decision in early 2012 to adopt International Financial Reporting Standards (IFRS) in a phased manner and be fully IFRS compliant by 2021.

The training on IFRS conducted by BDO was focused on enhancing the knowledge of the participants on how to apply IFRS with a view to ensure a smooth transition on reporting standards. The course was designed on a practical training model for selected IFRS topics including best practices followed by central banks.

The training program was built on a three tier framework of Conceptualise, Comprehend, and Case Study Analysis. The training covered all technical aspects in a clear, practical format, including an overall review of the rationale and objectives of each standard. In addition, active participation by all participants was encouraged through a combination of direct instruction, analysis and evaluation of practical case studies, examples and exercises to illustrate application of the standards as well as current and future issues and other "real life" examples.

The team selected for conducting the training included Partner, Audit and Assurance/ Head of Technical and Training R. Vasanthakumar, Managing Director – BDO Consulting Ltd. Nishan Fernando, Associate Director Audit and Assurance Nishani Perera, and Senior Manager – Audit and Assurance Jerad Dias. BDO Sri Lanka has a proven track record and has significant experience in handling IFRS application projects and IFRS training programs.