The Sri Lanka Association of Administrative and Professional Secretaries [SLAAPS] affiliated to the Association of Secretaries and Administrative Professionals in Asia Pacific [ASA] held its second International Residential Seminar in Dubai at the Hilton Garden Inn Hotel Al Murraqabat recently.
The workshop was designed for senior secretaries and admin professionals to learn how one could become a champion for themselves among their peers

A large delegation comprising the public, private and Governmental sectors in Sri Lanka attended the seminar in Dubai which was followed by many other networking activities.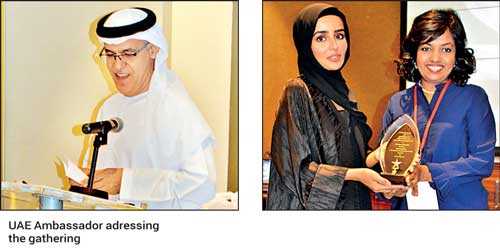 UAE Ambassador for Sri Lanka Ahamed Ali Ibrahim Al Mualla very kindly graced the seminar as the chief guest and presented a beautiful plaque plated in gold with the words 'The New Face of Dubai – Burj Al Arab' to the Association President Ruveena Cader.Meera Al Mualla, daughter of the Ambassador, was a guest lecturer and spoke on women's empowerment touching on true life stories which inspired the audience.

DIF (The Danu Innasithamby Foundation) Chairman/Managing Director and Lite87 Program Director Danu Innasithamby spoke about his success story as well as empowerment and kept the audience alive with his great sense of humour.

'Amazing Race' was the topic of the session by Fahad Farook, an international trainer, certified transformative coach and Management Consultant, an interactive segement which kept everyone on their toes.

The project was chaired by Azra Reyaldeen and assisted by Project Secretary Shireen Rajee.

The association takes the opportunity to thank Ambassador Ahamed Ali Ibrahim Al Mualla for his continued support towards its activities.