With over a decade of experience within the British American Tobacco (BAT) Group, Arjuna Rajawasan, returned to Ceylon Tobacco Company PLC (CTC) as its new Head of Human Resources last year. Rajawasan returns to Sri Lanka after six years having served with the South Korean and Malaysian offices of the Group, where he was last the Head of Human Resources at the Regional Product Centre for the Asia Pacific Region in Kuala Lumpur.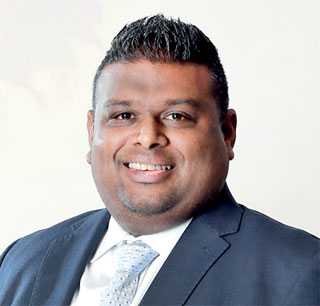 Arjuna Rajawasan


Rajawasan adds that it was his ambition to return to Sri Lanka and to CTC as its Head of HR. Upon his return, Rajawasan observes there is greater centralisation and alignment in Sri Lanka with the global business, but adds that the unique identity of CTC remains strong. One of his primary objectives in his new role is to ensure the right opportunities are provided for local talent to excel within the Group.
"At the Group level, CTC is known for possessing a very strong talent pipeline that delivers results despite the challenging operating environment. The strength of our talent is demonstrated clearly by the number of talent exports we have had over the past few years. For instance, in the past two years alone we have had around 14 of our employees taking on various roles across the group, on either short-term or long-term global assignments. This is around 20% of our management cadre and is a considerable number for an organisation of our size and scale; overall, a very promising sign for CTC and Sri Lanka."

"When I joined the Company at the outset our mantra was to make our talent externally marketable, and today I am happy to say we have achieved this position within the group. At CTC, we offer employees exposure to a fully-integrated supply chain, which includes leaf growing, manufacturing and marketing as well as experience of managing effective processes and different levels of people including unions. Nothing has changed in terms of that learning process."

"Looking after the team and ensuring the processes are in place to provide the right opportunities to develop our talent and contribute positively within the group, either in Sri Lanka or in other markets, or even outside the group will be my primary objective as Head of HR. There is ample evidence of many of our employees thriving in different roles across the BAT group, and there are many ex-CTC personnel doing very well in senior roles outside the Group, so I believe we are doing the right things," Rajawasan states.

CTC and BAT are renowned for providing diverse learning opportunities both locally and globally through its unique program of development and integration. Employees at all levels have access and opportunity to learn, visit and serve in global markets whereby they significantly expand their individual capacities. Sri Lanka and CTC in particular offer a unique and valuable platform of learning, and it is one of the handful of markets in the globe that has a fully vertically integrated 'crop to consumer' business model.
Greatest eye-opener

Rajawasan who also served in Pakistan and Bangladesh avers that the greatest eye-opener for him with global exposure was the way different people and cultures work, and how they approach issues with different strategies. "Whilst this can throw up challenges at the outset, the end outcomes are very positive," Rajawasan observes. He also emphasises that while the pure physical effort put in by some markets can be higher in comparison to Sri Lanka, the outcome achieved is often the same.

"Once again, this demonstrates the high skill levels and thought processes of local talent," he notes, but adds that things happen at a much faster pace in most other markets. Therefore, synergies and experience sharing amongst markets lead to positive outcomes for all.

Rajawasan describes Malaysia as an experience closer to home in terms of culture and ease of life, and adds that some of the biggest plus points of working with an international team is the engagement with people at different levels and exposure to the wider workings of the region, which personnel to better understand the bigger picture. All these are learnings that employees can bring back home and help grow the organisation further.

Rajawasan says: "The tobacco industry as a whole is facing a lot of challenges, both here and across the globe. In Sri Lanka we are in a dark market, and that affects your employee value proposition, or your talent attraction factors are diminished. For instance, even when I joined CTC I knew very little about the Company or how it operated as a responsible corporate entity.

The second aspect is the stigma people tend to attach to the industry with no real understanding of how we do business. Many people think that as the product poses health risks one should not be working with the company; that itself cuts a percentage of people interested in joining the industry and those are some of the challenges we face. However, people who do take on that challenge understand the rewards of working for an international, responsible industry that offers its employees ample opportunities to grow."

"Over the years we have attracted some very good Sri Lankan talent, and therefore, retention is a key factor for the company. I must say that this is something CTC does really well. From remuneration to the open culture we promote within the organisation and the responsible manner in which we do business, CTC stands out among its peers. We appreciate our people, and many fundamentals and processes are built keeping the employee at the heart. Our turnover rate of 6% is quite healthy compared to the general FMCG turnover rate. That is an indication that we are retaining the right people, which is one reason why we continue to be successful and a top employer in Sri Lanka. However, we continue to look at different programmes to attract and develop talent."

In addition to the focus on employee well-being and integrity, the Group is committed towards building greater diversity and empowerment amongst its workforce. CTC has more women working in the field now – recently commissioning its first female Area Manager whilst appointing more women to serve as Trade Marketing Representatives. These are first steps in an industry, which has traditionally been largely male dominated due to its factory and field-based operations.

Globally, BAT is moving vigorously to ensure enhanced working environments for women in particular. The Group also encourages a mix of demographics in the work force, and Rajawasan points out that his office in Malaysia had 120 employees from 20 different nations. CTC too presents a wide mix of expatriates serving in different parts of the organisation and recently welcomed its first-ever foreign National Sales Manager.

"We have separate programs to inspire our future leaders, projects and initiatives to keep the people energised and go that extra mile and give 200%. On a human development perspective, we have multiple interventions such as online and classroom programs, mentoring, coaching, learning from others, shadowing, projects; a whole host of interventions that lets employees control their growth and development with the support of the company. Everyone has their own development plan, which would consist of a mix of these interventions," explained Rajawasan.

The entire process, the governance and the time invested behind it is where the value and the quality come in particularly from a BAT perspective. "It is not just a tick in the box exercise. It's not rocket science, everyone would have a good development process in place, but what makes a difference is the number of hours, accountability and the management's commitment behind it."

So, what is Rajawasan's mission at CTC as Head of HR? "I always had an ambition to be Head of HR here. I was taught by quite a few legendary personalities at CTC in the past, people I look up to and respect very much. I believe that people like my predecessor and myself are the legacies of these CTC legends. So, one big part of my legacy would be to develop people on my side who can sit here and do a better job than I would.

"Also, from an organisational perspective, I must deal with everyone from the union to non-management employees to senior management. I need to cut across all layers at certain points with different interactions. If these people were to recognise that this guy (Rajawasan) was able to empathise and understand each unique position and do what's best for them and their future, that's the biggest thing for me; it's about growing the organisation."