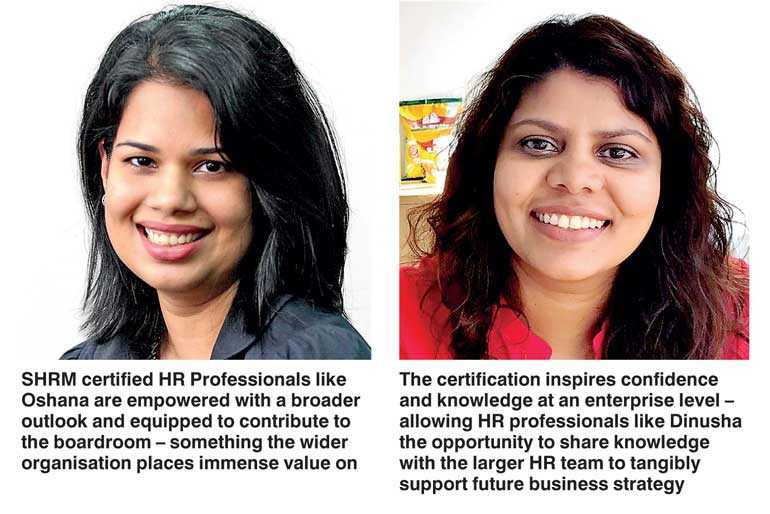 In today's environment, professionals working in human resources and training and development environments require a variety of skills ranging from behavioural to technical competencies to stay competitive.

The SHRM-CP (Certified Professional) and SHRM-SCP (Senior Certified Professional), offered by the Society for Human Resource Management (SHRM) – the world's leader in HR professional development – are some of the most globally sought-after credentials by practitioners and their employers.

SHRM India CEO Achal Khanna says that constant change in the nature and responsibilities of today's HR Professionals, makes it imperative for continuous learning.

"The SHRM Certifications, SHRM – CP and SHRM – SCP directly link to on-the job scenarios and realistic work situations, making them the most relevant and differentiated learning pathways to an HR professional's career development."

With the assessment, HR professionals can build technical competencies around four key knowledge domains – People (HR strategic planning, talent acquisition, employee engagement and retention, learning and development, total rewards), Organisation (structure of the HR function, organisational effectiveness and development, workforce management, employee and labour relations, technology management), and Workplace (HR in the global context, diversity and inclusion, risk management and corporate social responsibility).

SHRM also validates a candidate's skills against eight behavioural competencies in three target areas: Leadership – including ethical practices and leadership and navigation, Interpersonal – targeting communication skills, managing relationships and effectiveness in working with global cultures and Business – targeting critical evaluations, business acumen and consultative skills

HR professionals in Sri Lanka now can undertake the SHRM certification exam in Sri Lanka at a special introductory price.

"In partnership with Association of HR Professionals (AHRP) Sri Lanka, we bring to you these SHRM Certifications to help you become a recognised expert and leader in the HR field as well as help become a valuable asset to your organisation," said Khanna.

The AHRP, the only professional network of HR practitioners in Sri Lanka, supports and guides candidates through preparation methods that meet every learning need.

These range from self-study programmes with convenient customisation tools that provide ultimate flexibility for learning, to seminars conducted by qualified, SHRM-Certified HR instructors to peer discussions from members who have already been through the programme.

With the SHRM certification in heavy demand around the globe, AHRP Vice President-External Alliances and Professional Affiliations, Oshana Dias, SVP – People Operations at Fortude, (a Brandix company), says that she quickly realised its potential value to her career, taking up the challenge of getting back to the classroom nearly five years after completing her master's degree.

"I was provided a set of textbooks and access to an online portal to help my learning experience. After a pre-test to gauge my level, I obtained a customised study plan geared to help me succeed. With adequate preparation and getting familiar with mock examination questions, I was ready for the challenge.

"As a SHRM-Certified HR professional, the programme has empowered me with a broader outlook and equipped me to step up the value I can add in the boardroom. It's something every HR professional should take, and a key criterion that companies can use to measure the value of their HR teams," said Dias.

AHRP Vice President – Professional Development and Knowledge Sharing and Fonterra Brands Lanka Human Resources Director Dinusha Jayamanne says, "For an HR Professional, proving your value across departments and being recognised as an HR expert and organisational leader is paramount."

"When the opportunity arose, I looked at ways to balance demands of a challenging job and time commitments to my 10-year-old son. However, when I began the learning journey, the content was so interesting and relevant to my role as an HR leader, that all fears of studying again and balancing time completely disappeared," said Jayamanne.

"In addition to focusing on HR, the certification inspires confidence and knowledge at an enterprise level with additional focus on organisational strategy, risk management and technology. I have a habit of knowledge-sharing with my team – and applying these learnings not only supported me to eventually obtain my certification but also delivered a tangible impact to the way my team and I work today."

The Association of Human Resource Professionals (HRP) is the only professional network of practicing HR professionals in Sri Lanka. With a 15-year history, the AHRP has conducted a host of initiatives and interventions over the years to uplift the standards of the HR profession.

Interested HR professionals can contact the AHRP network by calling +94 777719955 or emailing training@hrp.lk to sign up.

The Association of Human Resource Professionals (HRP) is the only professional network of practicing HR professionals in Sri Lanka. HRP with its 15-year history has made significant contributions to uplifting the standards of the HR profession in the country with a host of initiatives and interventions over the years. Amongst the activities for the year HRP plans to be a catalyst in nations human talent building, share the latest best practices amongst the member fraternity and offer a world recognized professional certification for HR practitioners in the country.

Founded in 1948, the Society for Human Resource Management (SHRM) is the world's largest HR membership organization devoted to human resource management. Representing more than 275,000 members in over 160 countries, the Society is the leading provider of resources to serve the needs of HR professionals and advance the professional practice of human resource management. To learn more about SHRM, visit shrm.org.