Today, more than ever, HR professionals are expected to assume greater leadership roles, shaping their organisations' strategic direction towards achieving business priorities. As with other human sciences, due to the volatile, uncertain, complex, and ambiguous nature of today's workplace, fully unleashing the potential of HR to value-add to the business can be challenging.
The Association of Human Resource Professionals (AHRP) – the only professional network of HR practitioners in Sri Lanka, has enabled HR professionals from diverse industries to take on these challenges through two leading competency-based professional credentials offered by the Society for Human Resource Management (SHRM), the world's largest HR membership organisation devoted to Human Resource Management.

SHRM Certified Professional (SHRM-CP) and SHRM Senior Certified Professional (SHRM-SCP), cover the behavioural and functional competencies required for the HR professional of today.The four modules covered by the certifications–HR Competencies, People, Organisation, and Workplace together enable the aspiring candidate to understand and implement best practices underlying the Human Resource Management requirements of an agile business landscape.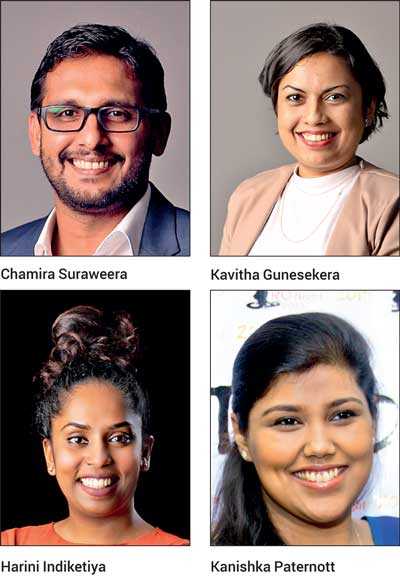 Certified HR Professionals share their experiences

HR professionals across industry-leading companies have realised the relevance and value-addition of the learnings through the SHRM certification offered by AHRP.

Fortude is a fast-growing IT company providing technology solutions to industry leaders around the world. Fortude has offices in the US, UK, Sri Lanka, and Australia, and has clients globally.

Fortude Head of HR Chamira Suraweera shares his learning experience, stating: "Qualifying as an SHRM-certified professional has given me the confidence to face the ever-changing challenges across the HR landscape. I strongly recommend anyone interested in HR to invest in an SHRM certification. It's worth it!"

From talent development and business partnering to HR operations, Chamira has played various roles in the HR industry since 2007, and today, he is responsible for Fortude's global HR operations.

Fortude Manager – Global Training & Development Kavitha Gunesekera adds: "What caught my interest were the true-to-life cases of practical HR applications. SHRM encourages continuous professional development (CPD), supporting successful certified professionals to renew and enhance their capability periodically, through the SHRM Learning System."

Fonterra is the world's largest dairy exporter, serving one billion people around the globe. The dairy cooperative has been providing high-quality dairy products to people across Sri Lanka for 40 years, towards its purpose of creating a healthier, happier nation. Fonterra Brands Lanka Learning and Organisation Development Manager Harini Indiketiya says: "This qualification gives any HR professional the definitive edge they require to be seen as a strategic partner within the organisation. The SHRM certification directly links to on-the-job scenarios and realistic work situations and are built on a strong foundation of knowledge, making it the only HR certification that is practical and strategic."

Fonterra Brands Lanka Human Resources Business Partner Kanishka Paternott adds "The SHRM-CP certification developed my thinking capacity to be able to evaluate HR challenges from different perspectives, utilising my knowledge and experience – it's been an incredible growth journey."
Competencies and knowledge developed for the real world

Signing up for a SHRM certification will not obligate a candidate to cram through jargon-filled HR textbooks. The SHRM Learning System allows candidates to learn from the experiences of other HR professionals and the best practices and concepts developed by them.

The certifications test the candidate's ability to apply learnings in real-world, everyday situations which are usually unplanned and unexpected. The content of the learning system is updated annually–ensuring that all examples and theories are current.
Globally recognised and relevant qualifications

SHRM-CP (developed for early-to-mid-career professionals) and SHRM-SCP (developed for senior-level practitioners) are globally recognised HR standards. SHRM's reputation as the world's largest HR membership organisation and an advocate for HR professionals spans nearly seven decades.

Today, SHRM boasts of 300,000 members in 165 countries. SHRM certifications provide global recognition: the knowledge, competencies, and skills attained through them give certified professionals the confidence to work anywhere in the world.
Certifications developed with employers in mind

An entire organisation benefits through the enhanced technical knowledge and behavioural competencies acquired by SHRM-certified HR professionals. Since its conception, SHRM certifications have been sought after by many organisations –a true testament to the ROI that these certifications can deliver.
In Sri Lanka, SHRM Certifications are offered by AHRP

The Association of Human Resource Professionals (AHRP) is the only professional network of practicing HR professionals in Sri Lanka. With a 15-year history, AHRP is at the forefront of uplifting the standards of the HR profession in the country.

The Association of Human Resource Professionals (AHRP) plays a vital role by supporting and guiding candidates through the SHRM certification process.

AHRP facilitates self-study sessions, seminars conducted by experienced SHRM-certified instructors, peer discussions with SHRM-certified professionals, and other customised, flexible learning programs. SHRM-certified AHRP members are committed to supporting aspiring candidates with their own subject matter expertise.

AHRP Vice President– External Alliances and Professional Affiliations Oshana Dias, being SHRM-SCP-certified herself, says "Earning the SHRM certification is not a one-time event; to maintain the SHRM certifications, certificants must be up-to-date with knowledge and competencies.

The learning is immense and end-to-end, and there is a lot you can take back to your workplace." "I invite interested HR professionals to contact AHRP to learn how the SHRM certification can empower their career growth as HR Professionals and organisational leaders."

Interested HR professionals can contact the AHRP network on+94777719955 or viatrai[email protected] to inquire more about the SHRM Certified Professional (SHRM-CP) and SHRM Senior Certified Professional (SHRM-SCP) certifications.