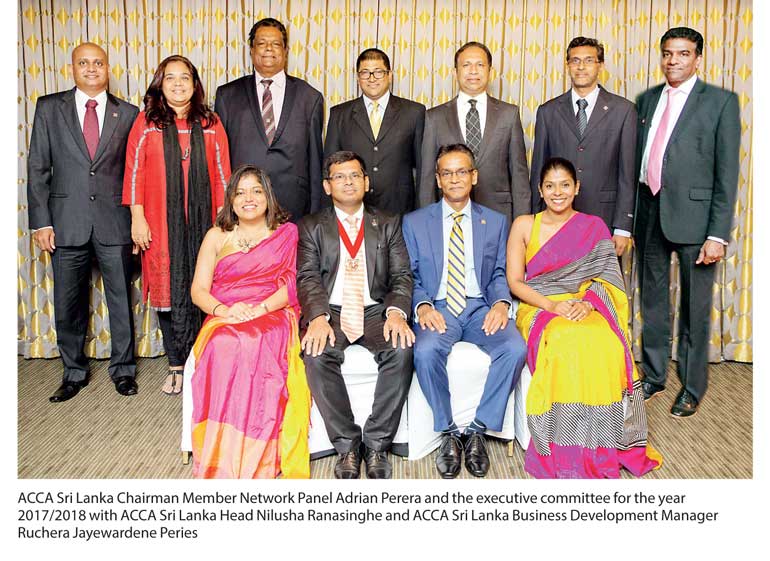 ACCA's Annual General Meeting was held recently at the Cinnamon Grand Colombo, where Adrian Perera, Director Corporate Affairs at OASIS Hospital Ltd. was re-elected as the chairman member network panel for ACCA Sri Lanka for the year 2017/2018.

Adrian Perera is a Fellow Member of the Association of Chartered Certified Accountants (ACCA), the Certified Management Accountants of Sri Lanka, and the Certified Professional Managers of Sri Lanka. Furthermore, Adrian is also the Chairman of the ACCA Sustainability Awards Committee. In addition he is an Associate member of the Institute of Bankers of Sri Lanka and holds a Master's degree in Business Administration from the Post Graduate Institute of Management University of Sri Jayawardenapura.

The rest of the executive committee comprised of Suren Rajakarier as Vice Chairman and committee members Nandika Buddipala, Channa De Silva, B.H.S. Jayawardena, Cyril Mundy, Jehan Perinpanayagam, Sanje Gunasekera, Tharick Razick, and Nisreen Rehmanjee.

Adrian in his speech said that he was proud to serve as president of a professional body that has been at the forefront of the finance profession in the country. He stated that in order to fulfil ACCA's strategy of being recognised as the leading global accountancy body in reputation, influence and size, he will during the coming year, continue to further strengthen the significant achievements and progress made last year and work towards ACCA being the number one qualification that develops the professional accountants that the country's businesses needs.

He would also work to continue to align ACCA's CPDs to address the skills and competences essential for members, work with employers, learning partners, and other key stakeholders to promote the ACCA brand and enhance the engagement of the members in all activities.

Ruchera Jayewardene Peries, Business Development Manager, ACCA Sri Lanka outlined the many achievements gained during the year which included affiliates being employed within one year of completing their exams, extending the qualification to students in Gampaha, Kandy, Galle, Badulla, Batticaloa, Puttalam, Vavunya and Jaffna, further strengthening agreements with key universities in the country, such as Sri Jayawardenapura, Kelaniya and Wayamba, as well as signing MOU's with two leading private higher education institutes, ICBT and NSBM Green Campus. The Prize winners and affiliates' awards ceremony held this year had 114 affiliates and five World Prize Winners. ACCA Sri Lanka achieved a member retention rate of 96.4% this year.

ACCA partnering with TV One, rolled out the Next Generation Challenge, an innovative competition targeted for Advanced Level students, private educational institutes and ACCA tuition providers.

Hela Clothing became an approved employer of ACCA and was awarded the certificate by Brian McEnery, President, Global Council.

Forums were held for members on the topics of Hospitality and Leisure 'Gearing for 2020', Indirect taxes and 'Digital disruption in the workplace'.

ACCA sustainability reporting awards ceremony this year had seven industry categories that demonstrated a comprehensive coverage of the three fundamental pillars of sustainability, namely economic, social and environment.

Taking into account the activities outlined in the 2020 vision, ACCA Sri Lanka's focus for 2017/18 will be on building greater market adoption, delivering member value and digitally enabling our strategy.

ACCA Sri Lanka with an increasing number of young talents, is today uniquely positioned to drive and grow a new breed of professional accountants, well equipped to drive the rapid change and innovations taking place in the finance profession in the country.