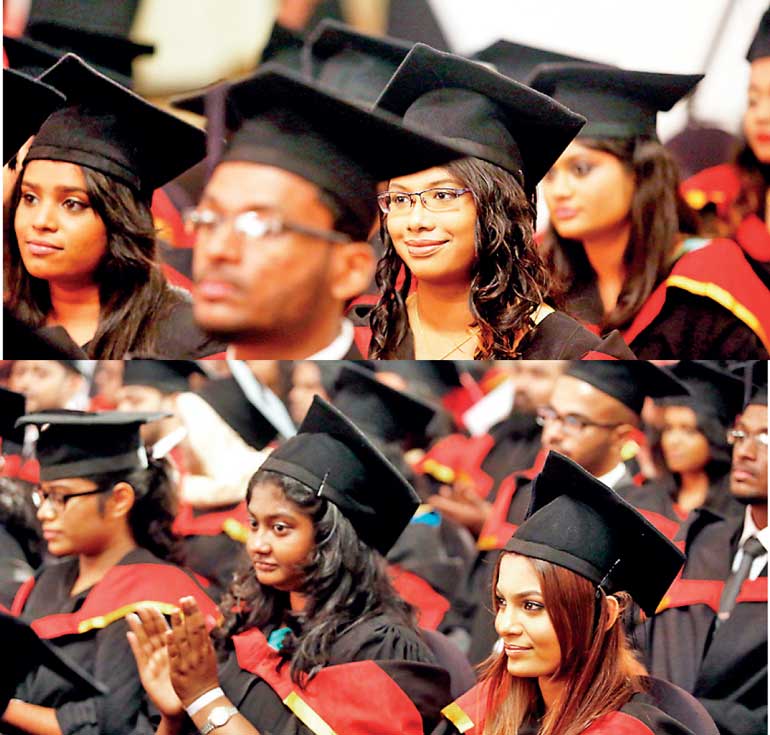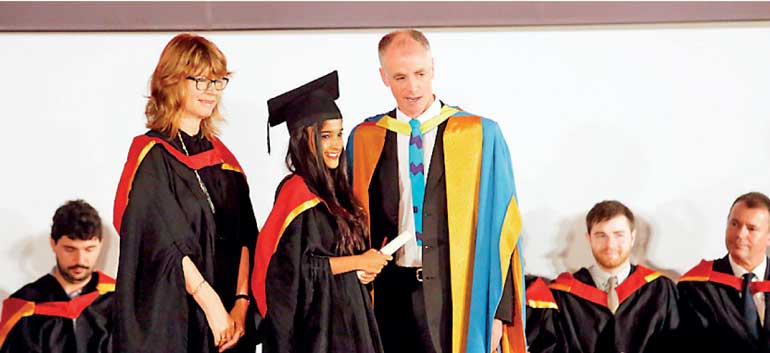 Northumbria UK dean of design faculty, Professor Steven Kyffin conferring complete British design degrees to AOD graduates
A new group of design graduates trained to meet international standard joined the local design sector as AOD conferred Northumbria University UK design degrees yesterday.

The significance of this graduation ceremony was in AOD conferring 100% internal and complete Northumbria design degrees to young graduates who have completed their education in Sri Lanka; this allows local industries a unique opportunity to access young talent that has been trained to meet international standards.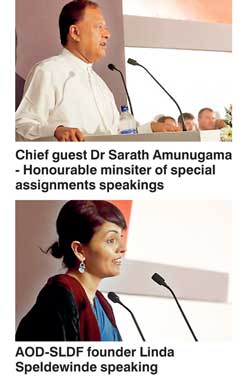 AOD's partner university Northumbria University was ranked among Europe's top 5 design academia and bears a reputation for creating outstanding designers such as Sir Jonathan Ive, the creative chief behind Apple.

AOD presents aspiring designers the opportunity to graduate with this very same Northumbria University UK degree in Sri Lanka, giving them access to the same global career opportunities as those available to designers studying in the UK.

Professor Steven Kyffin – the Executive Dean of Northumbria University Faculty of Design, Arts & Social Sciences, especially visited Sri Lanka to confer these world renowned degrees to AOD/Northumbria graduating group of 2015. The underpinning AOD/Northumbria partnership lies in the UK's momentous reputation as the world design capital and a leading example of a country that has used 'design' to benefit its national economy to a great extent. Therefore, AOD has selected Northumbria University as a partner to offer tried-and-tested British design education with the vision to develop Sri Lankan design as a contributor to our economy.

Honouring this significant relationship that SL maintains with the UK in relation to design education, the British High Commissioner to Sri Lanka James Dauris offered his official congratulations while Keith Davies – Country Director of British Council, represented Dauris at the graduation ceremony, as the guest of honour. The Northumbria/AOD partnership has already delivered this vision for Sri Lanka. With four successful groups of AOD/Northumbria designers already out there in the industry serving as professionals, Sri Lanka is starting to see the effects of this difference brought into business through design. This is particularly evident in design becoming an essential value addition for Sri Lankan industries such as apparel, hospitality, tourism and other key exports, while the demand for a growing workforce of competent designers increases every year. Therefore, the availability of design in the spectrum of higher education available to Sri Lankan youth is well recognised by the business sector as well as the Sri Lankan Government. It is this new recognition for design that was signified by Minister of Special Assignments Dr. Sarath Amunugama attending the AOD/Northumbria graduation ceremony as the chief guest.

Despite the notable partnership with Northumbria to deliver international design education, AOD ensures its graduates are nationally well-rooted and competent to enter local professions and contribute to Sri Lankan industries. This is delivered through an interesting mixture Northumbria UK curriculum, a full-time international faculty, study tours abroad, etc. together with projects to revolutionise the craft heritage and opportunities to work with local businesses while at campus.

Beyond this, AOD's vision also extends well beyond traditional education and highlights the social and commercial relevance of design in today's world. The Sri Lanka Design Festival (SLDF) that recently concluded its 7th successful edition, is AOD's brain child and is organised annually by the campus with the help of the government and design led private sector and corporate giants who value design.

This close working relationship with the government and the private sector has allowed AOD to nurture 'industry relevant' skills in AOD graduates and for the campus to maintain an outstanding 100% employment policy. In this light, this graduation ceremony was a perfect embodiment of AOD's vision of seeinga group of designers who completed their education here in Sri Lanka, graduating as global design citizens

AOD's convocation was held at the Mount Lavinia Hotel and highlighted the outstanding results of a unique vision for design education that brings about the best of home-grown talent to match the standards of international design. AOD is currently enrolling for its December intake for the Northumbria University UK complete degrees in Fashion, Graphic Design, Interior Design, Fashion Marketing and Motion Graphic and Animation Design.

For more information contact AOD (011) 5867772/3 or log on towww.aod.lk, www.facebook.com/aodsrilankaor visit 29, Lauries Road, Colombo 4.