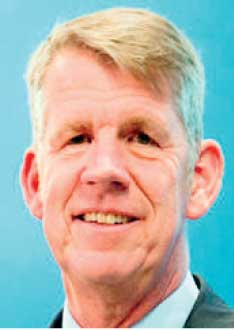 A high profile delegation of TUI, the world's number one integrated tourism group, headed by the Group CEO Fritz Joussen, will be visiting Sri Lanka today (Thursday).

Organised by its joint venture partner Aitken Spence Travels, this would be the first time that Fritz Joussen will be visiting Sri Lanka.

Joussen will be accompanied by other TUI top-level executives including the CEO of TUI Germany, Managing Director of Product and Purchasing, CEO of TUI Nordic and Managing Director of TUI UK and Ireland on this visit.

This visit highlights the focus on destination Sri Lanka and is a major endorsement from the global tourism giant.

TUI provides services along the entire tourism value chain for its 30 million plus customers from 31 source markets travelling to 180 destinations.
It employs over 77,000 people in 130 countries. The group owns over 300 hotels and resorts with 210,000 beds, operating 136 aircrafts and 12 cruise ships.

The company boasts revenues of 20.1 Billion in turnover and an operating result of 1.069 Billion.

The TUI Group's share is listed on the London Stock Exchange in the FTSE index and in the regulated market of the Frankfurt Stock Exchange.

The TUI group is an equal share partner of Aitken Spence Travels, the largest travel company in Sri Lanka. TUI enjoys a relationship of 35 years with Aitken Spence, promoting Sri Lanka as a destination across a wide variety of source markets, especially in Europe.

The partnership will be further strengthened with the commencement of planned charters from UK and Scandinavia, planned to start in the near future, along with the expected increase in arrivals from Germany and the Benelux region. The Lankan tourism industry will benefit greatly from these initiatives, adding traction to the tourism master plan of the country.

The TUI team is scheduled to meet Prime Minister Ranil Wickremesinghe, Minister of Tourism John Amaratunga and other key tourism industry officials during their one-day stay.

The delegation will also make visit to 501-room RIU Ahungalla – a joint venture with Aitken Spence Hotel Holdings, which is currently under development. In addition, the TUI team will also visit other hotels that will be featured in its brochures.

RIU Ahungalla once completed will be Sri Lanka's largest beach hotel with 501 rooms. The hotel will offer a new segment of "all inclusive," a first of its kind to Sri Lankan consumers and will extend its wings to its brand loyal customers travelling the globe. The TUI Charter operation will definitely generate more opportunities for other hotels to generate more business due to the increase in arrivals.

"TUI has continued to express interest in Sri Lanka as an important destination in the region. This historic visit is a result of a longstanding commitment and the growing openness in Sri Lanka. The overall increase of business from TUI will create opportunities for the growth of inbound numbers and the potential development of Sri Lanka's tourism product that this visit may facilitate," said Nalin Jayasundara, Managing Director, Aitken Spence Travels and a respected industry veteran.

As the country's biggest tour operator, Aitken Spence Travels handles an annual volume of over 125,000 inbound tourists, and continuously strives to contribute to the growth of inbound volumes to the country.