Former President and Kurunegala District MP Mahinda Rajapaksa took a moderate stance on issues pertaining to controversial Northern Province Chief Minister C.V. Wigneswaran and the release of Tamil political prisoners that were at odds with his usual rhetoric, in discussions with journalists from the Tamil media yesterday.

Wigneswaran, the former President said, was not a racist. "The Chief Minister I know I don't believe is a racist. He is a politician. He cannot show results. Just like this Government can't show results," the former President told a group of Tamil journalists during a press meeting yesterday.

Rajapaksa said that Wigneswaran had been unable to find solutions for youth unemployment in the Northern Province.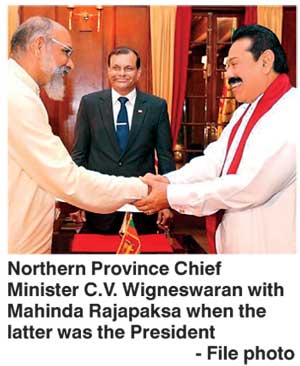 "He has no answers. So to make people forget their problems, he is trumping up nationalism," the former President claimed.

He also told Tamil language journalists that he was not opposed to the release of political prisoners being held under the Prevention of Terrorism Act (PTA). Rajapaksa said the only thing he was opposed to was the Government interfering politically with the judicial process to release these detainees.

"We are not opposed to them being released. Namal, who was in jail with them, came back and asked me, why aren't these people being released? Even to him I said that the problem was that there were cases against these people pending in court," the former President explained.

Rajapaksa said that if the Attorney General's Department wished, they could withdraw the cases, or expedite them. He said that during his presidency, when he attempted to rehabilitate these detainees and release them, their lawyers had demanded that they be produced in court.

"As per these wishes, I produced them in court. Otherwise by now even those prisoners would be free," Rajapaksa claimed.

The former President charged that development in the North had come to a standstill since his defeat, and said the Government had failed to solve the problems of the Tamil people.

"Are we the only ones who didn't look into their problems? What has this Government done for them?" he asked.

Rajapaksa said that the Government was constantly speaking about removing the military from the North. "I don't know how many troops have already been withdrawn. But tell me how many IDP camps this Government has closed? This shows me that this Government only thinks about politics, not about the Tamil people," he added.

Questioned on whether he believed it was still a wise move to hold the Northern Provincial Council election in 2013 given the volatile political situation developing in the North today, Rajapaksa responded that he believed it was still the right decision. (DB)