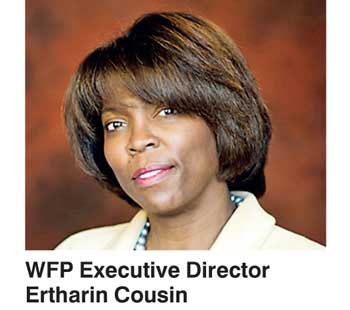 The Executive Director of the United Nations World Food Program (WFP), Ertharin Cousin, travels to Sri Lanka on Friday at the invitation of the Government to attend the launch of the National Strategic Review on Food Security and Nutrition, which will help shape and inform the country's ongoing efforts to achieve the second Sustainable Development Goal (SDG2) of zero hunger.

The launch will bring together Government, non-governmental organisations (NGOs), civil society, academia, the private sector and UN agencies. The research was led by Chandrika Bandaranaike Kumaratunga and the South Asia Policy and Research Institute.

During her visit, Cousin will meet President Maithripala Sirisena as well as ministers and senior government officials with whom WFP collaborates in efforts to build food and nutrition security in the country.

Cousin will also travel to Moneragala where she will meet people involved in the WFP's programs to build the resilience of vulnerable communities in the face of frequent climate-related shocks, such as the current drought.

WFP is the world's largest humanitarian agency fighting hunger worldwide, delivering food assistance in emergencies and working with communities to improve nutrition and build resilience. Each year, WFP assists some 80 million people in around 80 countries.