Reuters: US health officials on Thursday recommended that pregnant women postpone nonessential travel to 11 Southeast Asian countries because of the risk of Zika virus infection, which has been shown to cause severe birth defects.

The latest countries singled out by the US Centers for Disease Control and Prevention are Brunei, Myanmar, Cambodia, Indonesia, Laos, Malaysia, Maldives, Philippines, Thailand, Timor-Leste (East Timor), and Vietnam.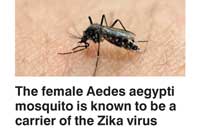 The CDC said "travel notices," like those issued for Zika-struck countries like Brazil and Singapore, have not been issued for these destinations, but such warnings would be considered if the number of cases rises to the level of an outbreak.

Zika, which is mainly a mosquito-borne disease, was first identified in Brazil last year and has been spreading globally. The CDC has so far advised pregnant women to avoid going to nearly 60 countries and regions because of the active spread of the virus.

Unlike parts of Central and South America and the Caribbean hit hardest by the recent Zika outbreak, areas of Southeast Asia have had the virus present for many years. It is considered endemic in these countries, the CDC said in a statement, and many people who live there are likely immune.

The agency said there have been recent variations in the number of cases reported in the region and, while the level of risk is unknown, Zika virus infection during pregnancy causes severe birth defects, including microcephaly and other severe brain abnormalities.

Henry Harteveldt, founder of the travel consultancy Atmosphere Research Group, said the warning could discourage visits to Southeast Asia ahead of the peak winter travel season around Christmas and New Year.

"Some of these destinations are very popular for students and younger adults in their 20s or 30s looking for vacations, whether it's a backpacking tour or surfing or swimming," said Harteveldt. "This could have a noticeable impact on inbound tourism and (cause) some economic damage."

The impact may not be limited to US vacationers, he added.

"When the US CDC issues an alert, just like when the US State Department issues an advisory, it's taken very seriously across the travel industry. It may prompt the CDC's counterparts (in other countries) to take a look and issue their own warnings," Harteveldt said.

To be sure, any dip in travel to Southeast Asia is unlikely to hurt profits for US airlines because they have few flights to the region, relying instead on other carriers to transport their customers with the help of marketing or "codeshare" agreements. Companies that fly more to the destinations, like Air France-KLM SA and Emirates, have more exposure, said Harteveldt.

"These are not the top-tier vacation destinations that a lot of people go to. They're still (more like) "bucket-list" destinations, he said. "It's not like the CDC just issued a warning saying, don't go to England."

Airline bookings to parts of Latin America and the Caribbean slipped globally after the CDC issued a similar travel warning for the region because of Zika.