Party insists no faith motions against PM, Ravi K. withdrawn before 20A debate
Insists on 225 MPs and no more
Agrees to hybrid between FPP and PR systems as long as it ensures minor party, ethnic group representation
Kabir slams Nimal Siripala for double standards on electoral reform
Claims SLFP had no interest in reforming system during 20 year reign
UNP announces it will transform Parliament into constituent assembly after parliamentary poll
Vows to make electoral reform a national priority post-poll
The United National P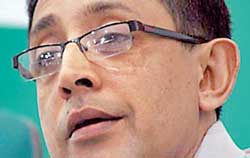 arty, main stakeholder in the present minority Government, made its position on the 20th Amendment to the Constitution on electoral reform official, with a blistering statement from its General Secretary Kabir Hashim in Parliament.

Hashim, also the Minister of Highways in President Sirisena's cabinet, launched a scathing attack on Opposition Leader Nimal Siripala De Silva and the rest of the SLFP, which he said was suddenly very enthusiastic about electoral reform.

"Yet it stuns me that despite this avid interest, it stuns me that the present opposition leader and his party men who were in the Governing party for 20 years never brought up the 20th Amendment. An electoral reform act was not introduced to this House even when his party had a two thirds majority," Hashim charged during his statement before the House during an Adjournment Debate on 20A which began yesterday.

The UNP General Secretary made it clear that it had been the party's position since 2001, as articulated in the Dinesh Gunewardane Committee on electoral reform established during the UNF tenure from 2001-2004, that the number of MPs should remain at 225.

Hashim said that following consultations with civil society and religi

ous groups interested in reform, the UNP was agreeable to a mixed electoral system comprising both the FPP and PR systems, with a maximum of 225 MPs.

"But with 45 provincial ministers already in place and 450 provincial legislators elected, it is difficult for the UNP to agree to even more representation in Parliament. We cannot burden the people even more with having to maintain their representatives.," the top UNP lawmaker charged.

Hashim said the UNP had no faith in the opposition's clamour for 20A. "Is the Opposition acting in good faith on electoral reform? The UNP thinks not," he charged. "We believe that the opposition, especially the opposition MPs loyal to the former President speak of 20A while in fact planning a major conspiracy against the Government," he added.
The UNP General Secretary claimed that the opposition was insisting that the no confidence motion against the Prime Minister betaken up for debate before the 20A.

"They publicly claim that they will sack the Prime Minister through the no confidence motion and appoint a Prime Minister of their preference and then get the passage of this amendment. Furthermore since today this is a minority Government, they want to show their strength in this House," he said.

Hashim charged that it was the UNP position that before the 20th Amendment be taken up by this Parliament, the no confidence motions against the Prime Minister and the Finance Minister must be withdrawn.

The UNP General Secretary said that no matter what the circumstances, a UNP Government elected in the next parliamentary elections would make electoral reform a national priority. "We will ensure an amendment on electoral reform is passed. That is our desire. That is our belief. That is our determined position. We commit ourselves to this," he said.

The senior UNP Legislator explained that an electoral system was not merely the foundation of representative democracy, but that it formed the core of democratic values and principles.

Hashim also announced that the UNP hoped to transform Parliament into a constituent assembly to bring about constitutional reform after they won what he said would be a huge majority in the upcoming parliamentary elections. (DB)