By Chamodi Gunawardana

The United National Party (UNP) yesterday charged that Committee on Public Enterprises (COPE) Subcommittee Chairman D.E.W. Gunasekara tried to pass a false interim report over the Central Bank Treasury Bonds issue.

Addressing a press briefing held at Sirikotha, former Deputy Minister of Justice Sujeewa Senasinghe claimed that Gunasekara drafted this false interim report without the permission of the COPE Subcommittee members.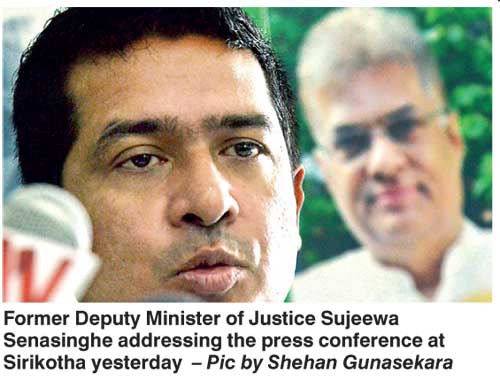 "Last Tuesday the COPE Subcommittee gathered and we decided to meet again on Friday. However, Gunasekara suddenly called a meeting on Thursday and said that he wanted to pass a new interim report about the Central Bank Treasury Bonds issue. We were unaware about that report and we were confused," Senasinghe alleged.

Senasinghe said that Gunasekara forced all the COPE Subcommittee members to accept this interim report before the Parliament dissolution.

"Gunasekara brought this interim report and asked us to accept it before the dissolution of Parliament. However, we did not have much time to study that report. Therefore we refused to accept it. I told Gunasekara that we wanted more time to refer this draft. He has drafted three different reports, but they are full of rubbish," Senasinghe charged.

Senasinghe added that he would like to invite Gunasekara or anyone else to a debate over this interim report.

"I studied this drafted report completely, and I have a general idea about it. If Gunasekara or any other person wants to prove this report correct, they can sit for a debate with me. The UNP also wants to find out the truth of the Treasury Bonds issue, but we do not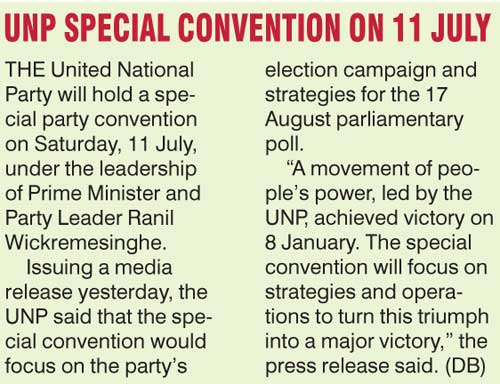 want to draft false reports over it," Senasinghe expressed.

Senasinghe also said that the COPE committee would continue inspection into the Treasury Bonds issue under the next Parliament too.

"The COPE Subcommittee has been inactivated because of the Parliament dissolution. However, a new subcommittee will be appointed after the election. We expect to continue these inspections under the next Parliament. The Government will conduct inspections about SriLankan Airlines, Mihin Lanka, Mattala Rajapaksa International Airport and the Port of Hambantota too," Senasinghe stated.