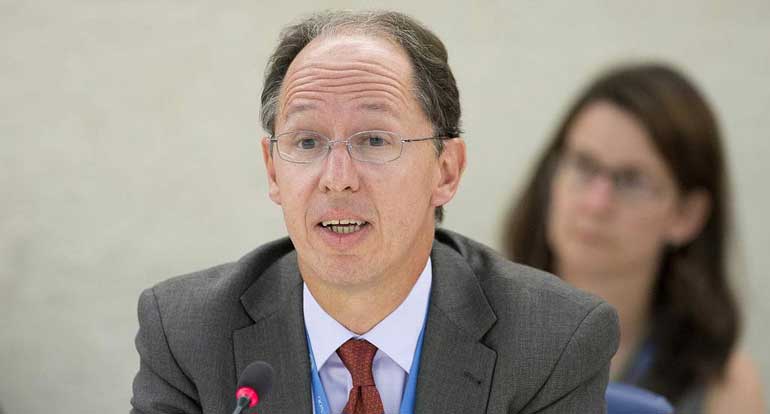 Pablo de Greiff
Geneva: The UN Special Rapporteur on Truth, Justice, Reparation and Guarantees of Non-Recurrence, Pablo de Greiff, who visited Sri Lanka last month for a second time, said Sri Lanka should not rush to comply with the commitments that the country has made for the sake of demonstrating compliance.

In his report released Wedn-esday following his visit to the country from 26 January to 1 February, the Special Rapporteur said the Sri Lanka has embarked on an ambitious process that should not be prepared, let alone implemented, in haste.

The Special Rapporteur said it is gratifying to see a Task Force has been established in order to design and implement a national consultation on issues having to do with truth, justice, reparation, and guarantees of non-recurrence, which are matters of legal obligation, and which were the object of commitments voluntarily undertaken by Sri Lanka when it co-sponsored a resolution on this topic at the Human Rights Council in Geneva in September 2015. He said the time line that the task force on consultation has received suggests that there may be some unrealistic expectations about what is involved in settling complex issues in a difficult environment, in which programs on novel areas is being considered for the first time.



"There is no country that can accomplish all of this in a short period of time. Those that are familiar with transitional processes in different parts of the world understand the challenges and do not expect Sri Lanka to adopt measures simply for the sake of demonstrating compliance with commitments that the country has made," he said.

However, de Greiff pointed out that the Government can pay immediate attention to certain issues on which it can certainly act without delay.

For example, the government can act on the issue of the missing, on the prompt adoption of victim assistance programs including psycho-social support, the lingering issue of land occupied by the armed forces, among others.

What is expected of the Government is to "engage in credible processes leading to the establishment of strong institutions capable of delivering in a sustainable way robust results over time in the areas of truth, justice, reparation, and guarantees of non-recurrence, the Special Rapporteur said.

The Special Rapporteur reaffirmed his conviction that this is a historic opportunity for Sri Lanka to address past issues that nevertheless impose significant burdens on the present and the future. Addressing them correctly, while challenging, will also open crucial opportunities for the members of all communities, he noted.