President Maithripala Sirisena yesterday said it was highly regrettable that certain groups have resorted to strike action to further their political agendas when steps have been taken to solve SAITM issue.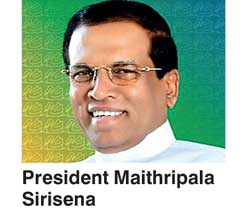 Speaking at a function in Anuradhapura yesterday, he urged the medical students not to be political paws and to complete their medical education successfully for their benefit as well as for the sake of the nation. He assured that no student would be subjected to injustice.
He said that several steps have been taken to resolve issues with regard to the SAITM and they include to make clinical studies compulsory for SAITM students, SAITM students will have to face examinations approved by the Medical Council and the University Grants Commission, announce minimum qualifications for medical studies, taking over the private hospital, single ownership of the medical college to be expanded into a broad base ownership and appoint a professional council to administer it.

The President stated that it those who are poor and marginalized who often suffer from such trade union action, taken to achieve political goals. He further said that if there is any issue, there is room for trade unions to discuss those issues with the Government.

President Sirisena further said that it is a pathetic situation that several trade unions, including some sections of doctors hold strikes which impacts the daily life of the people, in an environment where all preparation are being made to hold the UN International Vesak festival.

The President recalled the requests made by individuals to hoist a black flag when the Indian Prime Minister Narendra Modi arrives in Sri Lanka to attend the International Vesak festival. He also said that everyone must understand that strengthening the Indo-Lanka relationship established since introduction of Buddhism in Sri Lanka, does not mean that Sri Lanka is bowing down to India.

President Sirisena also emphasized that he will not sign any agreement with any country which is detrimental to Sri Lanka and said that he came into power not to hand over part of a country to another country or to annul the privileges and rights of the citizens by signing unfavorable agreements with other countries.

He attended the religious ceremony to unveil the newly built Buddha statue at the premises of the Local Government complex, Anuradhapura.

The President engaged in religious observances and participated in alms giving ceremony for 100 Bhikkus.

The Maha Sangha including Chief Incumbent of Ruwanweliseya Ven.Pallegama Hemarathana Nayake Thera, Ministers Duminda Disanayake,Chandrani Bandara,P. Harrison,Governor of the North Central Province,P. B. Dissanayake,Chief Minister Peshala Jayarathna and many others participated in this event.