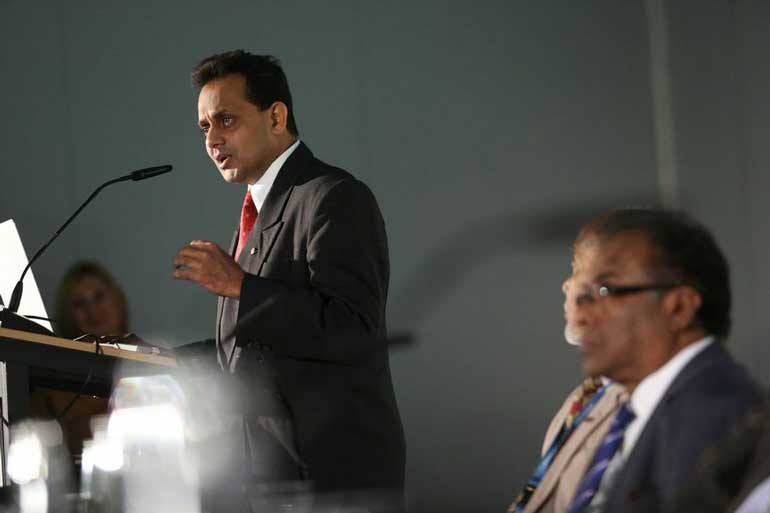 With international tourism receipts increasing by $ 48 billion in 2014 to reach a record $ 1,245 billion with an additional $ 221 billion generated from international passenger transport, bringing total exports from international tourism up to $ 1.5 trillion, Sri Lanka must target a 1% share or a $15 billion tourism exports, said Sri Lanka Tourism Promotions BureauChairman/Commissioner General for Sri Lanka at Expo 2015 Dr. Rohantha Athukorala, addressing the University of Colombo Masters in Tourism Economics and Hotel Management programat the Economics Faculty of the university.



This links tourism to the national agenda of the $50 billion dollar exports target, said Athukorala, citing the theme of this year's Ceylon Chamber of Commerce conference which was addressed by President Maithripala Sirisena and the keynote delivered by Prime Minister Ranil Wickremesinghe. "Now we must break down the remaining numbers to be achievedvia tea, apparel, rubber, cinnamon and sapphires if we are to make this target a reality."

Athukorala noted that if tourism is professionally developed with the support of a strong global branding campaign, the country can be profiled with the strategic objective of attracting $250 dollars and thereby achieving the strategic objective of being a $15 billion export industry.

"Sri Lanka tourism has crossed the $1.6 billion mark as at July 2015, which means we are poised to make the target of $3 billion a reality with July arrivals growing by 32.1%. The next three months forward bookings being very bullishgives policymakers the confidence that we can surpass the $3 billion dollars plus number," said Athukorala.

He also explained how internationally tourism was in fact one of the main contributors behind the graduation of Botswana, The Maldives and Cabo Verde from their previous LDC status. Another case the world saw was Philippines' contribution via tourism to the economy crossing 7.8% in 2014.

On a question posed on target markets, the Sri Lanka Tourism Chairman drawing from experience explainedhow Europe which is Sri Lanka's key market on revenue accounts for 41% of worldwide international tourism receipts which is worth $ 509 billion. Asia and the Pacific (30% share) reaching $ 377 billion is where India and China come into play in the mix, he said. The Middle East, (4% share) tourism receipts recorded at $ 49 billion shows the potential of focused markets, he added.

Athukorala mentioned that even though China and India would account for volume based tourism, which will touch half a million arrivals into Sri Lanka by the end of 2015, the Rs. 860 million spend on marketing in China during the last three years (2012-2014) is not a ROI-based investment as together the countries contribute only 13% on revenue.

The speaker was critical of the attention the industry has received by from policymakers during the last 30 years in Sri Lanka and globally. "In Sri Lanka, we were dogged by the civil conflict that wiped away $6 billion dollars on a very basic back of the envelope calculation whilst even today we don't have a proper master plan or a global branding and destination marketing campaign which we are correcting," he said.

On a global scale, despite tourism being a high-impact economic activity, a major job generator and key export sector accounting for 6% of total world trade, tourism receives only 0.78% of the total Aid for Trade (AfT) disbursements and a mere 0.097% of the total Official Development Assistance (ODA), he said, even though this industry mirrors the best dynamics of the changing consumer needs of the world.

"As we move forward to adopt a new sustainable development agenda, we have a unique opportunity to raise the level of assistance in tourism to further harness its vast potential for stimulating green growth.This will include bringing in the informal sector that accounts for 49% of the tourism receipts or 7.3 million room nights into the mainstream and also help correct Sri Lanka's forest cover depletion from 53% to 29% in the last 20 years," he said.

Athukorala urged the MBA graduates to take projects related to tourism in the areas of impact of digital marketing on destination marketing, impact to culture due to aggressive tourism business in a country, and value chain quantification when tourism develops specially in the dissertation stage given that university research must link to the private sector so that Sri Lanka on the whole can become competitive. "If not, we as an industry cannot contribute to the $15 billion tourism exports target which will link to the national agenda of the $50 billion export target," said Athukorala.
Caption

Dr. Rohantha Athukoralaaddressing the University of Colombo Masters in Tourism Economics and Hotel Management program students