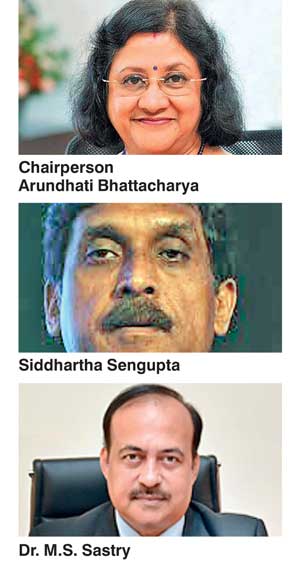 A top team from State Bank of India led by Chairperson Arundhati Bhattacharya will be in the country as part of furthering its engagement in Sri Lanka.

Bhattacharya, who is among Forbes' Fifty Most Powerful Business Women in Asia, is here on invitation from the Central Bank to deliver the 66th anniversary oration titled 'Financial Sector Reforms in India' today at 4:30 p.m. She is also the first woman Chairman of SBI in its over 208 years of history.

She together with the visiting SBI Deputy Managing Director (International Banking Group) Siddhartha Sengupta and Deputy Managing Director and Chief Risk Officer Dr. M.S. Sastry will also meet staff and customers to better understand and serve needs in Sri Lanka where SBI has had presence for 152 years since opening a branch in 1864.

The visiting SBI officials will be present at the Public Enterprise Development Ministry organised seminar on State Bank Reforms including Governance Issues in State Banks – for the CEOs, DGMs and Members of the Board. This seminar will also focus on the aspect of compliance with International Regulations BASEL III and IFRS 9.

The Chairperson and the Deputy MD will also visit the main branch at No. 16 Sir Baron Jayatilleke Mawatha and on Thursday, SBI will host customers for lunch and later in the afternoon meet with heads or members of the Sri Lanka Banks Association.

The SBI team will also attend a Corporate Social Responsibility project at the Prithipura Infants Home at Beach Road, Hendala, Wattala on Thursday.

Under Bhattacharya's leadership, Global Finance Magazine from USA has adjudged State Bank of India as Best Bank in India, Best Trade Finance Providers in India and Best Sub-Custodian. The same Magazine has adjudged State Bank of India as Best Bank in India (Emerging Economy) Asia Pacific.

Forbes Asia has included her in the elite club of Fifty Most Powerful Business Women in Asia as also the Top Indian Most Powerful Woman in their list of Top 100 World's Most Powerful Business Women. She has also been featured in the Fortune List of Top 50 globally most powerful women in business and in the Asia-Pacific region she is ranked among the top five.

These laurels however rest lightly on her shoulders. Having taken over as Chairman of SBI in October, 2013 she has been grappling with resolving issues to lead and transform SBI into a top-notch global institution. Her actions and policies in this direction have made SBI a force to reckon with. She is greatly respected for her frank and open views and in matters of finance and banking her word carries a lot of weight with the Government, the regulators and peer bankers. In fact she was the only public sector banker to be handpicked for the Prime Minister's delegation to Australia.

She has been named the CEO Entrepreneur of the Year by E&Y Entrepreneur of the year Award Jury.

She is also associated with various initiatives for empowering the challenged and differently-abled with the aim of integrating them in the society.

Dr. M.S. Sastry, Dy Managing Director and Chief Risk Officer (DMD and CRO) joined State Bank of India on 9 December 1983 as Probationary Officer in Hyderabad Circle. He has worked in various areas viz. Risk Management, Credit, Operations, overseas assignment etc. during his tenure with the Bank.

Dr. Sastry has a Ph.D in physics and has certification in Financial Risk Management (FRM) from GARP and Chartered Financial Analyst (CFA).

Prior to his elevation to the position of DMD, Dr. Sastry headed Risk Management Department at Corporate Centre, Mumbai. He has also handled Credit Risk Management and Group Risk Management Departments very effectively on his earlier assignments.

Dr. Sastry possesses requisite skills in the area of Risk Management and has been instrumental in developing a robust risk culture and skills in the bank through awareness and training. The bank is preparing for migration to advanced risk management approaches for credit, market and operational risks under his able leadership.

Siddhartha Sengupta is the Deputy Managing Director, International Banking Group, at State Bank of India, Corporate Centre, Mumbai. As the Head of SBI's International Operations, Sengupta oversees the bank's business operations at 198 overseas offices spread across 37 countries.

In a career spanning 33 years at SBI, he has held several managerial positions in retail and branch banking, corporate banking as well as international banking. Sengupta had held a variety of assignments in India and also served overseas – in New York as part of the SBI's US Operations Compliance Team with overall responsibility for AML and OF AC Compliance and Regulatory Examinations.

Prior to his current assignment, Sengupta was at Dubai as the Regional Head of MEWANA Region (Middle East, West Asia and North Africa) of State Bank of India. He holds a Bachelor of Science (Hons) in Chemistry and Masters in Business Administration from XLRI, Jamshedpur.