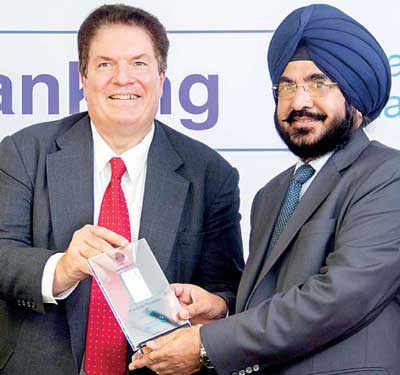 Standard Chartered's global internet banking platform Straight2Bank will now facilitate Lanka IOC PLC's migration to automated payments and collections.

This facility was ceremonially inaugurated by Lanka IOC Chairman B.S. Canth on his visit to Sri Lanka by approving its maiden electronic payment. The event was attended by senior officials of Lanka IOC and Standard Chartered.

The ERP support was provided by Ceylon Petroleum Storage Terminals Ltd. (CPSTL), which is a joint venture company of Lanka IOC PLC. This three-way partnership is set to change the transaction banking landscape of Sri Lanka's oil and gas industry.

Standard Chartered Head of Transaction Banking Bingumal Thewarathanthri, commenting on the new facility, said: "Developing solutions that are progressive and cutting edge is a key focus of our Transaction Banking business. This implementation is a testament to how well Standard Chartered is placed in Sri Lanka to help organisations such as Lanka IOC PLC minimise the use of paper and leverage on technology by relying on a standardised electronic platform to execute payables, perform reconciliations and fast forward receivables in a seamless manner."

Speaking at the inauguration ceremony, Lanka IOC PLC Senior Vice President (Finance) Anuj Jain emphasised: "Automation has played a pivotal role in streamlining processes and mitigating operational risks in our parent organisation IOC, which transacts over 90% of payments and receivables electronically through online banking platforms. We are confident that we can build on our experiences and achieve optimum levels of automation in Sri Lanka through Standard Chartered's global internet banking platform."

Lanka IOC Managing Director Shyam Bohra mentioned that he is encouraged by the technological advancements in the banking sector which offers substantial benefits to all associated stakeholders. He also appreciated the manner in which Lanka IOC's banking partner has effectively connected systems seamlessly to deliver this solution.

Standard Chartered Head of Commercial Banking Sales Roger Norton further commented: "At its early stages of the roll out, Lanka IOC's collections and payments will be executed through the automated clearing house (ACH) and then be migrated to the real time clearing platform by leveraging on the common electronic fund transfer switch (CEFT), which facilitates immediate fund realisation on a 24X7 basis, administered online through Standard Chartered's internet banking platform, Straight2Bank. The solution is a celebration of collaborating systems such as SAP, Virtual Accounts and state-of-the-art clearing mechanisms which will accelerate the working capital cycle of Lanka IOC."

In Sri Lanka, Lanka IOC was incorporated in 2002 and currently operates over 199 filling stations, distributing automotive fuel, Servo lubricants, bitumen and bunkers, and is a comprehensive fuelling service provider.