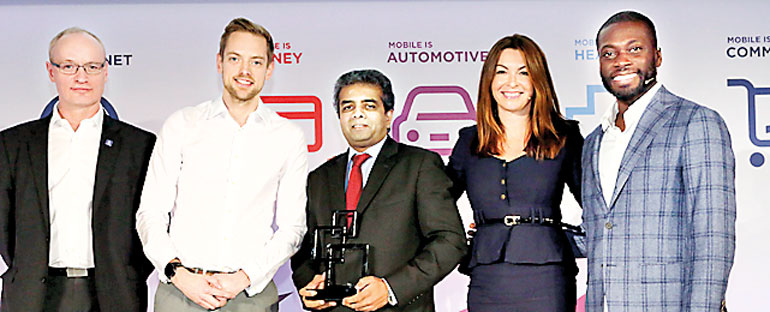 Dialog Axiata Group Chief Executive Dr. Hans Wijayasuriya (centre) with the award along with Chief Technology Officer of the Global GSM Association Alex Sinclair (L), Gareth Beavis of TechRadar (2L) Suzi Perry – awards host and TV presenter (2R) and Ortis Deley – awards host and TV presenter (R )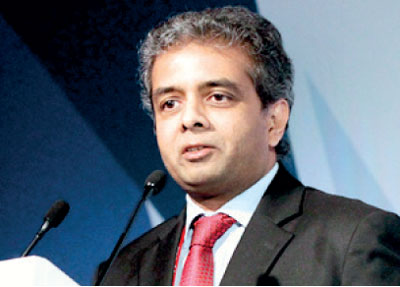 Sri Lanka's premier connectivity provider, Dialog Axiata Plc, claimed top honours once again at the Mobile World Congress held in Barcelona Spain last week, winning the award for the Best Mobile Network Solution for Serving Customers.

The annual Global Mobile Awards at the Mobile World Congress are considered the Oscars of the mobile world, where the global industry converges to showcase the latest and best in mobile technology and services.

Sri Lankan innovation...

Dialog's award-winning innovation came in the form of an advanced Mobile Network technology innovation featuring a unique orchestration of Mobile Network Application Programme Interfaces (APIs) manifesting in the Dialog Self-Care Application Framework and Dialog Self Care App.

Dialog's unique approach to simplifying the interface between complex network technologies and the end-consumer beat out worldwide competition to secure the top spot in the category. Other nominees for the award included Huawei, KT (Korea Telecom), Taiwan Star Telecom and Ufone Pakistan.

The Dialog Self-Care application framework spans Dialog's multiple service verticals featuring Mobile and Fixed Telecommunications, High Speed Broadband and Digital Pay Television, and empowers customers to engage seamlessly with the company's exhaustive range of over 200 value-added service options.

Dialog Axiata Group Chief Executive Dr. Hans Wijayasuriya, receiving the award from the Chief Technology Officer of the Global GSM Association Alex Sinclair, paid tribute to the company's local customer base of over 10 million, "I would like to thank our many millions of customers for inspiring this innovation," he said, and followed with attributing the achievement to Dialog teams from across multiple functional areas, whose combined expertise and effort delivered a truly unique service technology platform.

Dialog has consistently placed Sri Lanka as a leading market on the world map of mobile telecommunications, having first won a Global Mobile Award in 2001. The company has bagged a total of six Global Awards since then, two of which were secured at last year's 2015 Mobile World Congress, for eZ Cash (Best Mobile Money Platform) and Ideamart (Best Technology Enabler).

eZ Cash connects over 15 million mobile subscribers across the Dialog, Etisalat and Hutch Networks to the very latest in digital mobile transactions, while IdeaMart, an Application Development Platform which exposes a wide range of rich network APIs continues to empower the innovations of over 5,000 Sri Lankan Mobile Application Developers and Content Providers.

Since its inception in 1995, Dialog has continued to spearhead Sri Lanka's position as a regional and global leader in terms of advanced mobile services, and even more importantly in terms of the plural affordability and life-changing value of the resulting services to the country's population.

Sri Lanka was the first country in South Asia to launch GSM services in 1995 and has since secured many other regional firsts including the first 3G-enabled country in 2006 and the first nation to support commercial 4G services in 2013.

Sri Lanka has also been recognised by the ITU for providing its citizens with the most affordable (lowest priced) mobile and data services. More recently, a World Development Report published by the World Bank highlighted Sri Lanka as a world leader in terms of the affordability and availability of mobile services while another report published by US-based Akamai Technologies placed Sri Lanka ahead of nations such as Australia, Malaysia, China and India in terms of broadband speeds.

The GSMA represents the interests of mobile operators worldwide, uniting 800 over network operators with more than 250 companies providing products and services in the broader mobile ecosystem, including handset and device manufacturers, software companies, equipment providers and Internet companies.

The annual Global Mobile Award serves as a platform to recognise world leaders in the sector who spawn inventive thinking that will drive the industry over the next two decades.